A democratic, stable and prosperous Ukraine is also of Finland's interest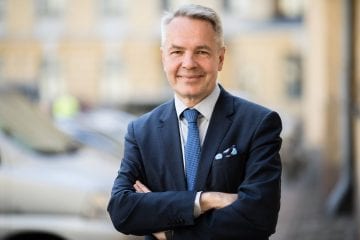 Pekka Haavisto,
Minister for Foreign Affairs,
Finland
We are entering the eighth year of the illegal annexation of Crimea and city of Sevastopol by the Russian Federation and outbreak of the conflict in eastern Ukraine. Russia's actions have violated both the international law and territorial integrity and sovereignty of Ukraine. The conflict has caused immense humanitarian suffering with almost 14,000 dead and over 3 million people in the need of humanitarian assistance and protection. According to the UN, eastern Ukraine is one of the areas most contaminated by landmines in the world. Covid-19 pandemic has deteriorated the humanitarian situation further.
I was able to witness the situation in eastern Ukraine by myself, when I visited the contact line in Stanytsia Luhanska in November 2019. The blown up bridge was under reconstruction and reopened later that November. It brought some relief for the local people when crossing the contact line became a bit easier.
Finland's position is firm. Ending the conflict and restoring Ukraine's control over its territories will strengthen Europe's security and renew the respect for rules-based international order. There is no military solution to the conflict, but the dialogue and full implementation of the Minsk Agreements are the key. We stress Russia's responsibility in this respect.
Despite the challenging circumstances, Ukraine has been undertaking ambitious reform process with the aim of improving living conditions and strengthening the resilience of the society. While the progress has been evident, reforms are anything but finished. In order to guarantee the irreversibility of the reforms achieved, the foundations of the society have to be sustainable. More needs to be done especially in good governance, rule of law and tackling corruption. Peoples trust on institutions and authorities needs strengthening. Reliable and transparent business environment is crucial for companies to invest and do business in Ukraine. Commitment and ownership by Ukraine is the driving force for reforms. We have trust on Ukraine that it will deliver for the good of the people and the country. Finland together with the EU and international community are there to support.
Finland is and will be a staunch supporter of Ukraine. It is in our interest to have a democratic, stable and prosperous Ukraine as our next-door neighbour. Our goals with Ukraine are manifold. We support the efforts to end the conflict and restore Ukraine's control over its whole territory, including Crimea. We reinforce our political relations and widen the practical level cooperation as well as trade relations. We aim for strengthening Ukraine's cooperation with the EU.
There are many ways to achieve these goals.  Primary instruments are widening political and trade cooperation, continuing development cooperation, participating to EU's and OSCE's civilian crisis management missions, providing humanitarian assistance, financing demining projects and supporting Ukraine in international organisations.
Main sectors in our development cooperation with Ukraine are supporting Ukraine's education reform, enhancing energy efficiency and use of renewable energy sources as well as strengthening the rule of law. Reforms in the education system provide for inclusiveness and sustainable development of the society. We aim at reforming teachers' training, improving learning materials, modernising vocational education and training and enhancing e-learning capabilities.
Cooperation in energy sector will enhance Ukraine's energy sell-sufficiency and energy independence. It will also help Ukraine to promote sustainable development goals and achieve the goals of the Paris Climate Agreement. We are pleased, that Ukraine is also aligning herself with the principles of the European Green Deal. Reforms in rule of law are crucial to improve the good governance, increase transparency and accountability, and respect for human rights.
Our bilateral trade is underperforming despite the potentials. There are about 80 Finnish companies operating in Ukraine, of which some 20 more permanently. The annual trade flow was about EUR 300 million in 2019, which is less than half of the peak years' of early 2010s.
There is a mutual will to increase bilateral trade. Both Finland and Ukraine are working to strengthen links between the authorities and businesses. I encourage Finnish companies to look for opportunities in Ukraine that is our neighbouring market with almost 40 million people and only two-hour flight from Helsinki to Kyiv. As part of Team Finland efforts, Foreign Ministry is also recruiting an additional commercial specialist to our Embassy in Kyiv to promote trade interests. Finland is also benefiting greatly from the opportunities provided by the EU-Ukraine association and free trade agreements. Visa-free travel boosts mobility and people-to-people contacts.
There are all the reasons to believe that Finland's cooperation with Ukraine will strengthen and increase even further in the future.
Expert article 2905
> Back to Baltic Rim Economies 2/2021
To receive the Baltic Rim Economies review free of charge, you may register to the mailing list.
The review is published 4-6 times a year.