A modest economic proposal: One Canadian's take on trade relations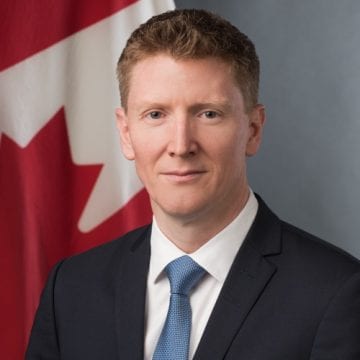 Jason Tolland,
Ambassador,
Embassy of Canada, Finland
Much of the post-WWII period has seen the establishment of what we commonly refer to as the "rules-based international order". Both Canada and Finland, and the European Union as a whole, have championed this order, one that (for all of its warts) has been the foundation on which the enormous wealth gains of recent decades have been built. Recently, some have pointed to cracks in that foundation, or argued that it must change. And then came the COVID-19 pandemic.
It is difficult to consider trade policy now without referring to the remarkable circumstances of the current crisis that pandemic has created. Yet it is equally important to consider our policy response in the light of what economists call the long run. Anyone with a modest awareness of economic history will recognize that devastating events like COVID-19 have happened before. And our communities have continued to trade, and continued to gain from that trade.
Canada, as Finland, is an open, trade-exposed economy, and has relied on the General Agreement on Tariffs and Trade and successor World Trade Organization's (WTO) rulebook to support unprecedented economic growth. As our societies and markets have become more complex, so has our need for new rules to support our interconnected world. This has led Canada to create a network of bilateral and regional economic agreements, of which the Canada-EU Trade and Economic Agreement (CETA) is one.
However, these are not zero-sum trade agreements. They form the fabric of mutual trust and benefit that underpins the modern economy, the "global household", and exist as part of a larger framework that includes our commitment to human development, to environmental protection, and to global peace and security. For Canada, trade is a crucial enabler of our citizens' welfare, and it is increasingly clear that this welfare flows from trade agreements that support small businesses, and that preserve labour and social rights, environmental protections, and gender equality.
It took years for the WTO's legal framework, the Dispute Settlement Understanding, to produce a significant body of decisions enforcing trade rules and a framework for an agreement like the CETA, but that framework has proven itself to be one of the most successful international legal frameworks ever devised. Its functioning is not independent of an agreement like the CETA, but complementary.
Even before the pandemic, the challenges were there, not least the incapacity of the WTO Appellate Body to operate. Canada has been active through many years of diplomacy to strengthen the WTO dispute settlement system; in fact, many of the CETA's innovations come from the collaboration of Canada and the EU as part of this strengthening exercise. It led to the creation of the Ottawa Group, with Canada, the EU and others working to preserve a rules-based settlement system until the full functions of the WTO Appellate Body can be restored. CETA is an example for a modernized global trading system.
However, COVID-19 has infected that system, and it is imperative that the policy response does not cause more damage to the patient. To that end, on April 14, Canada's Foreign Minister François-Philippe Champagne and EU High Representative Josep Borrell Fontelles committed to protect the flow of critical medical supplies across borders. This is a recognition of just how important it is to maintain supply chains to facilitate the flow of essential goods during a crisis. It is also a redoubling of our commitment a transparent, rules-based trading system more generally, as a means to expedite the economic recovery that will follow. This is echoed by the commitments of the Finnish government in support of the rules-based international order.
As WTO Director-General Roberto Azevêdo recently noted, it is crucial that we maintain open economies that work together, so that trade outcomes can support the highest-welfare outcomes after the crisis. There is an obvious, near-term impact, but this will pass. So we must make policy choices, like with the CETA and the WTO Agreement before it, which support strong economic outcomes.
If the ongoing pandemic teaches us anything about trade, it is how interconnected our economic world is, and how important and vulnerable these interconnections are. And the one thing that the current crisis will not change is the importance of trust in trading relationships. It will not change the fact that we, all of us, benefit from the rules-based international order, because we help shape it.
There may be supply-chain restructuring, a rebalancing of production, or an effort to reduce vulnerability to shortages of essential goods. Our collective challenge – trade, diplomatic and political – is to ensure that these shifts further reduce the social and economic inequalities that led to the creation of CETA's progressive trade model in the first place. And as Canada's Ambassador to Finland, I am heartened to report that both Canada and Finland are rising to that challenge.
Expert article 2703