BUCE: Digital bridge between Belarus and BRE
Raman Yaniu,
Chief Communications Officer,
Belarusian Universal Commodity Exchange,
Republic of Belarus
Belarusian Universal Commodity Exchange (BUCE) is one-of-a-kind in many ways. Not because it wants to but because it has to. Being one of Eastern Europe's largest mercantile exchanges with thousands of clients across the globe is a tough job. BUCE therefore is trying to offer something that none of its competitors do.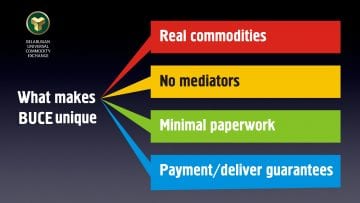 First, unlike most mercantile exchanges, BUCE is focused on real commodities rather than derivatives. This gives BUCE its own special niche in this highly competitive market.
Second, BUCE's clients are free to choose whether to trade on their own or via an exchange broker. This is a handy option since no one likes intermediaries.
Thirdly, any foreign company can become an exchange broker and promote BUCE's services in its home country. Less paperwork and red tape is always good for business.
Finally, BUCE has a special unit that monitors exchange transactions to ensure that both parties fulfill their contractual obligations in full and on time. People are always eager to do business when risks are minimal.
All these features serve one important goal – creating a favorable, risk-free environment for domestic and cross-border trade based on fair competition, transparency and efficiency.
Fancy terminology aside, BUCE is a highly versatile online platform where buyers and sellers can meet, bargain, negotiate and ultimately make a business transaction. As simple as that.
Still, BUCE would have never become what it is today had it remained within the tight confines of its home market. Seeking to evolve into something bigger than just another local commodity exchange BUCE has always aimed for foreign markets where all the global supply and demand are concentrated. Pursuing an aggressive expansion strategy, BUCE gradually spread its reach to other countries and gained a firm foothold there.
Export makes up around 30% of BUCE's annual turnover. In monetary terms, this is some 477 million USD. More than 80% of this figure have been generated by foreign sales of timber to some 28 countries. Interestingly, all major buyers of Belarus' strategic commodity are concentrated in the Baltic region.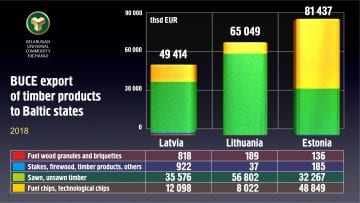 Geographical proximity, strong business ties, and absence of a language barrier facilitate the development of exchange trade between Belarus and its Baltic neighbors. For example, last year's statistics suggest that companies from Estonia, Poland, Latvia, and Lithuania purchased the bulk of fuel wood listed for sale at BUCE's timber trading section. The biggest buyers of sawn timber also originated from Lithuania, Latvia, and Estonia as well as Germany and Czech Republic.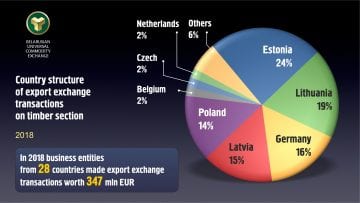 According to the National Statistical Committee of Belarus, 2018 saw a 43% surge in export sales of sawn timber. Among the most active buyers were the companies from Belgium, Estonia, Germany, Latvia, Lithuania, the Netherlands, and Poland. The same upward trend could be observed at BUCE. In particular, sawn timber sales increased by 30%, while wood chips exhibited nearly 4-fold growth.
Relatively low prices coupled with decent quality make Belarusian timber products attractive to Baltic woodworkers who often resell what they purchase via BUCE to the UK, Sweden, China, Egypt, and other countries. At a premium, or course.
Other key factors that contribute to increasing volumes of timber flowing through BUCE to Estonia, Latvia, Lithuania, and Poland include:
– heavy government investments in the timber industry;
– high production capacity of Belarusian timber mills;
– convenient logistics;
– easy access to the Belarusian market;
– motivated exchange brokers who promote BUCE's services in Baltic states.
Today, however, it is no longer enough to create an electronic marketplace and hope that clients will line up at your doorstep. To succeed, one needs to come up with a comprehensive service – the so called "all-in-one solution". This is exactly what BUCE has been doing for the past couple of years. Besides its core business area, BUCE has expanded into e-commerce, logistics, property trading, information services, and software development. This diversification creates multiple cash flows that fuel BUCE's growth and allow investing in R&D, infrastructure, and personnel training, which makes Belarus' only mercantile exchange even more competitive, flexible, and sustainable.
As could be expected, all this diversity comes at a cost. When one ventures into so many areas at once, it may be hard to allocate human and financial resources without draining one's coffers dry. However, thanks to streamlined management practices, a well-balanced budget and an adequate corporate policy BUCE continues delivering robust performance despite various external and internal factors.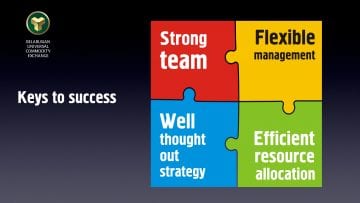 It took BUCE some 15 years to create a perfect alloy of highly qualified professionals and innovative technologies. It may be a long time but overall it seems a fair price to pay for the opportunity to bring the future a little closer.
Email: r.yaniv@butb.by
Expert article 2640