EU Interreg funding for smart ideas in blue growth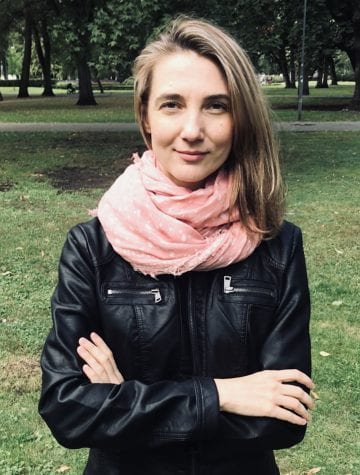 Elena Kolosova,
Project Officer/Advisor for External Cooperation,
Interreg Baltic Sea Region Managing Authority/Joint Secretariat,
Latvia
Mussels farming, algae cultivating, blue biotech are no longer exotic words in the vocabulary of regional governments and private companies in the Baltic Sea region. Lately, they've been generating a lot of knowledge and experience in these sectors. And here projects, like those co-financed by Interreg Baltic Sea Region that provides grants for smart ideas, allow experimentation.
Such EU funded projects became an answer to the trend in the Baltic Sea region to embrace the latest innovation developments within the maritime industries and respond to the environmental concerns when the Sustainable Blue Growth Agenda for the Baltic Sea Region was adopted by the European Commission in 2014. Projects in Interreg Baltic Sea Region attract both public and private actors as they can develop solutions together getting expertise from ten countries around the Sea. The three examples below illustrate what can be achieved in transnational cooperation for sustainable blue growth.
St. Anna archipelago and Byxelkrok in Sweden, Musholm in Denmark, Kieler Meeresfarm in Germany, Pavilosta in Latvia, and Vormsi in Estonia are a few locations where regional and local governments worked together in the Interreg Baltic Blue Growth project with universities and private companies to see if blue mussel farming could become a profitable and sustainable business. They experimented during three years to see how to set up mussel farms in the Baltic Sea and what the most determining factors on mussel production in the Baltic were: salinity, placement, a model of a mussel farm, and harvesting time. They proved that mussels could be successfully farmed in large parts of the Baltic Sea when farming methods were adapted to the local conditions. After farming, these mussels were used for food or producing feed for chicken. Further, mussel farms demonstrated positive effects on the environment by filtering the water and trapping excess nutrients.
In the Interreg ALLIANCE project organisations from around the Baltic Sea experimented on how to help novel blue biotech ideas to become market-ready products. For example, a Danish company that cultivated kelp started developing a natural organic sunscreen extract from this seaweed with two mentor universities from Denmark and Sweden. An Estonian natural cosmetics brand manufactured facial moisturizers with algae-based antioxidants in close collaboration with an Estonian biotechnology park and a German research and consulting company. Based on the experience of 25 different cases, the project built a network of mentors in the sector of blue biotechnology. The network involves now research and technology institutes, technology parks and innovation companies. After the project, the network will continue offering support to companies and municipalities in scientific and technical inquiries, access to biological resources, legal advice, business and project development, monitoring and coaching, communication and lobbying.
A few of the regional administrations from the BSR tapped into their research and innovation smart specialisation strategies targeting the development of blue growth sectors (Blue RIS3), with the financial support of the Interreg Smart Blue Regions project. Such strategies set priorities to develop own strengths in research and innovation that match business needs. The partner regions – Southwest Finland, Pomorskie, Skåne, Ida-Viru, Schleswig-Holstein and Riga – reviewed implementation of their smart specialisation strategies and initiated improvements to better support their regional industries. For example, Polish Pomorskie updated their Regional Strategic Programme introducing an entrepreneurial discovery process to manage regional clusters – a good practice that came from German Schleswig-Holstein. Southwest Finland, using the knowledge and best practices obtained in the project, created an internal plan for their Blue RIS3 implementation with a focus on responsibility, collaborative skills, accessibility and resource wisdom.
Another way to learn about new blue growth solutions but without being a partner in a project is to follow the development of the Blue Platform at https://www.submariner-network.eu/blue-platform. Supported by funds from Interreg Baltic Sea Region, a few organisations from around the Baltic Sea that are experts in the field of blue bioeconomy set up this platform. It brings together results from Interreg BSR and other EU funded projects that allowed experimentation, developing new solutions and testing them. By autumn 2021, this knowledge of a few hundreds of organisations around the Baltic Sea will be structured according to several selected topics like mussels, blue biotechnology, aquaculture. Anyone from the public sector, business, research or NGOs who is interested in sustainable blue growth solutions is welcome to use these results.
If you are curious what kind of ideas were tested out in the region, visit our library at https://projects.interreg-baltic.eu/. We truly hope that these solutions will become common practice.
Expert article 2658