In rye we trust – Kyrö Distillery Company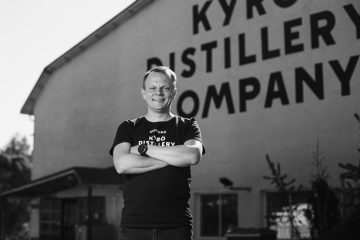 Mikko Ali-Melkkilä,
Head of Sales,
Kyrö Distillery Company,
Finland
Sauna is an integral part of Finnish culture and our way of living in Finland. It is a democratic room where usually rank and achievements play little role, a place to have both cheerful and serious discussions and sometimes even important decisions are made there. Sauna might have even played a key role in the decision-making related to Finland's future in the Cold War period. During President Urho Kekkonen's reign (1956 – 1982) the term "sauna diplomacy" became famous. Kekkonen entertained many international VIPs such as First Secretary of the Communist Party of the Soviet Union Nikita Khrushchev in his sauna in Helsinki.
In 2012 another significant event took place in a sauna in Finland. A group of friends had organized a get-together and a bottle of American rye whisky was being sampled while enjoying the sauna. The excellent taste of the rye whisky received many compliments. Besides sauna, rye also has a special place in the hearts of Finns; we consume six times the global average of rye in Finland and rye is a cornerstone of Finnish cuisine. The fact that nobody was producing rye whisky in Finland led to a lengthy discussion and eventually to an idea.
Setting up an all-rye distillery in Finland felt like a good idea the following day as well, even though none of the five friends had any experience from alcohol industry. After a lot of research into the art of distillation and other curiosities of spirits business and after writing quite a few business plans, a company was founded. Soon after, the distillery found its home in an old dairy in the village of Isokyrö in Western Finland.
The first distillation of Kyrö Distillery Company took place in 2014. The liquid was a rye spirit, which would become whisky after a minimum of 3 years of barrel aging. While the whisky was aging, rye gin production also began. A small business started to emerge, distribution being created bar by bar and the sales were progressing roughly according to expectations.
The gin turned out to be really good. In 2015 Kyrö Napue Gin was selected the "World's Best Gin for a Gin & Tonic" by the International Wines and Spirits Competition (IWSC), a highly acclaimed authority in the wines and spirits business based in London. None of the representatives of the IWSC had ever heard of the distillery or the gin before and instructed Kyrö to try to get prepared before the award was announced in a few weeks' time. As much gin was produced as possible, but the resulting surge in demand was only met fully in a year's time when the gin production capacity had been increased to a totally different level. The company has enjoyed considerable success ever since and employs today around 35 people in Finland and some 10 more internationally. The downside of the gin success was that no whisky was distilled and put to barrels for almost a year. In late 2016 the production lines for whisky and gin were separated and thus only in 2020 any relevant quantities of whisky will start to be released.
The market size in Finland for super-premium (rye) spirits was never big enough to justify the required investments in setting up a new distillery. As global markets were targeted from the beginning, exporting began soon after production had started. Today Kyrö is exporting to 30 different countries globally in Europe, Asia and Northern America. The products can be found in some of the most respected and prestigious cocktail bars around the world from Tokyo to Moscow, London and New York; an extraordinary achievement for a company this young with founders (all of them still working full-time for the company) who were all introduced to alcohol business together with the company. The international expansion has been done in a meticulous way by focusing first only on creating awareness for the brand through placements in the top tier cocktail bars. Only when a certain position in the market has been gained with the professionals, i.e. the bartending community, have products been carefully launched at a super-premium price point to a wider market of consumers.
Kyrö Distillery Company brand is built around stories about sauna, friendship, rye, risk-taking, personal growth, Finland and many other true stories. The high-quality spirits produced in an uncompromising way come in highly distinguishable, designed and minimalistic packaging, supported with clever and humorous marketing communication with a Finnish touch. The Kyrö story, only in its beginning, intrigues and fascinates people. Rather than sales, the main goal of the company's mission and resulting business model is to encourage and recruit people to join and take part in the Kyrö story.
While the current focus in 2019 is largely on the gins, careful preparations are being made for the launch of the company's eventual main product whisky, to be released in growing numbers starting from 2020 onwards. Kyrö Distillery Company continues to make considerable investments to further expand the capacity of the whisky production. A new whisky aging warehouse was finished in 2018 autumn and a new distillery building will start production in 2019 summer, providing the means for the company to become a mid-sized player in the world of spirits in the coming years.
After a decade in the wines and spirits business, I had the opportunity to join the Kyrö story in May 2019, to head the sales of the company. I am looking forward to a great journey in creating the world's best-known rye distillery.
P.S. I encourage You to visit our distillery in Isokyrö, Finland!
Email: mikko.a@kyrodistillery.com
www.kyrodistillery.com
Expert article 2492