U.S. Baltic Sea Region engagement: What's changed?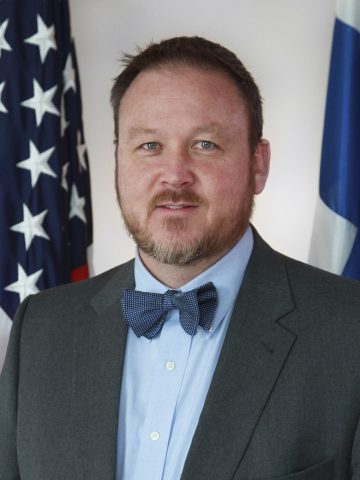 Shawn Waddoups,
Political and Economic Section Chief,
Embassy of the United States,
Helsinki, Finland
One of the rewards of serving as a U.S. diplomat in the Baltic Sea region is that, for the most part, we spend our time and energy working collaboratively with Allies and partners to address shared concerns, most of which are outside the immediate region. As I described in these pages two years ago, U.S. linkages and collaboration with Baltic Sea region partners are both broad and deep, based on mutual interests and a commitment to shared values. During the intervening period, our engagement with regional partners has only increased, and I can say without equivocation that U.S. engagement here contributes to regional stability.
Challenges persist, however. I wish I could say there is less need to focus on traditional hard security calculations, but this is an era marked by increasing strategic competition. Russia continues its more aggressive stance towards its neighbors, and even farther afield. We have had to confront the reality that it is violating the Intermediate-Range Nuclear Forces Treaty (INF) and degrading European strategic stability. Meanwhile, Chinese economic activities are raising questions about its geopolitical ambitions in the Baltic and Artic regions. As western democracies, we must respond to these challenges together. Together, we must engage competitors where effective, but stand firm when needed – and to do both in tandem. Sometimes that calls for a show of resolve, like the U.S. European Deterrence Initiative or continuing sanctions; at other times, it calls for attempts at dialogue, such as in the Arctic Council and Arctic Coast Guard Forum, or with the Helsinki meeting between Presidents Trump and Putin. Regardless, it is most effective when we act in unity.
In this uncertain security environment, our top priority remains ensuring the safety and security of our citizens.
In this uncertain security environment, our top priority remains ensuring the safety and security of our citizens. NATO is the bedrock of U.S.-European defense relations, and the U.S. commitment to it is unwavering. Foreign ministers from the 29 NATO Allies and North Macedonia, a soon-to-be Ally, gathered on April 4 to mark the Alliance's accomplishments in the very same room in Washington, D.C., where leaders from the original 12 members signed the North Atlantic Treaty exactly 70 years ago. As they noted, NATO has succeeded in "guaranteeing the freedoms of our almost one billion citizens, the security of our territory, and the protection of our values, including democracy, individual liberty, human rights, and the rule of law." One of the most significant recent developments for regional stability is the increase in Allies' defense spending. More must be done, but we are approaching levels that will ensure we have the required capabilities to respond to any potential security need.
Finland and Sweden's Enhanced Opportunity Partnership with NATO has matured over the last two years, leading to expanded training and exercises when these capable partners choose, and fostering better political dialogue regarding Baltic Sea region security. The United States also signed a unique trilateral Statement of Intent on Defense Cooperation with Finland and Sweden in 2018 that builds on already effective bilateral security partnerships and lays the foundation for further collaboration.
The United States has also focused on strengthening NATO-EU cooperation to reinforce transatlantic security. The fact that the EU is doing more on defense is a welcome development, but ensuring that the initiatives of these two organizations do not overlap or compete remains of paramount importance, as does ensuring that all Allies and partners can acquire the most capable equipment. Establishing the European Center of Excellence for Countering Hybrid Threats in September 2017 in Helsinki was one concrete accomplishment in this regard. The Center is doing outstanding work to help build resilience in its members, while also facilitating meaningful NATO-EU dialogue about how to protect our democracies.
Economic vitality is equally critical to transatlantic stability, and the Baltic Sea region is one of the epicenters of transatlantic trade and innovation. This region is the prime example of how fair and mutually beneficial trade, investments, and exchanges of knowledge deepen our alliances and partnerships and make both sides more productive. The U.S.-EU economic relationship is still the largest, most dynamic, and most complex in the world, with over $1.1 trillion in annual two-way trade, and we are actively looking for ways to improve it. In many areas we have serious issues to resolve, but it is far from the U.S.-EU economic rift some want to portray. Instead, we are coming together in real and significant ways. Most importantly, Washington and Brussels are exploring how to move trade negotiations forward to address some of the issues that remain. The United States is committed to concluding these negotiations with timely and substantive results, consistent with our priorities.
The U.S.-EU economic relationship is still the largest, most dynamic, and most complex in the world, with over $1.1 trillion in annual two-way trade, and we are actively looking for ways to improve it.
Strategic competition is increasingly apparent in the economic realm, too. We must ensure that everyone is playing by the same rules. Central to this is the joint U.S., EU, and Japanese effort to confront non-market oriented policies of third countries, such as China, as well as strengthening and reforming the World Trade Organization. We underscore the U.S. commitment to supporting the mandate of the WTO, but as U.S. Trade Representative Robert Lighthizer has said, "we cannot sustain a situation in which new rules can only apply to a few and that others will be given a pass."
We are exploring with regional partners how we can more effectively screen strategic investments to protect national security interests without hindering legitimate business. We support efforts to increase regional energy security through interconnections and diversification of routes and sources of energy, like the Baltic Connector pipeline and LNG terminals around the Baltic Sea. We firmly oppose projects, like Nord Stream 2, that will ultimately undermine Europe. We increasingly collaborate with regional partners to address cross-border crime and corruption, including money laundering and illicit financial flows that threaten our well-ordered economies.
Finally, we continue our collaboration to promote peace, education, public health, research, economic empowerment, and human rights around the world. Finland's decision this year to join Lifeline, a consortium of 19 governments that provides emergency financial assistance to civil society actors under attack, is an excellent example. Since it was founded in 2011, Lifeline has supported more than 1,375 civil society organizations in 103 countries. The core of Lifeline is the Baltic Sea region – it is chaired by the United States and Norway, with Denmark, Estonia, Latvia, Lithuania, Poland, Sweden, and now Finland as members. The United States will maintain efforts like Lifeline, where we can pool our resources and know-how with like-minded partners to create a more stable environment within which we all will benefit. This is worthwhile engagement, and something we can be proud of together.
Email: WaddoupsS@State.gov
Expert article 2513