Ukraine – Finland cooperation: The prospects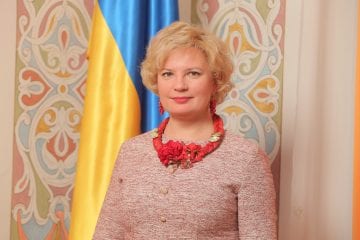 Olga Dibrova,
Ambassador of Ukraine to Finland
On February 26, 2021 Ukraine and Finland celebrate 29th anniversary of the establishing diplomatic relations. However, the history of close ties between our nations started more then 100 years ago. We have gone through this long century of challenges and turbulences with dignity and commitment to democratic values and freedoms. It is a great honor for me to represent Ukraine in the country, which is one of the role-models in world for social development, security, education, innovations and even high standards of healthy ways of life.
My meetings with Finnish officials have proved that our countries are close friends and partners. Ukraine – Finland partnership is based on shared responsibility for European and international security, sustainable development and environment protection. These are our core priorities, which are ingrained in all our joint endeavors and initiatives within bilateral cooperation and international organizations.
Ukrainians highly value Finland`s unwavering support for sovereignty and territorial integrity of Ukraine. We need to consolidate further international efforts in defense of rules-based order and be strong enough in the face of hybrid threats and challenges for the security of our societies.
Pandemics of COVID-19 has crucially changed international landscape, putting the resilience of our societies as an utmost priority for the much closer international cooperation. It's a moment when we need to find pragmatic ways for unlocking all available opportunities for economic growth.
Economy first approach is a motto of my team in Finland. We look into the future with optimism. A wide range of unique opportunities are unfolding now before business communities of Ukraine and Finland. We started to work with Finnish authorities to elaborate a mechanism to ensure full access of Ukrainian and Finnish business communities to information about potential for trade and investment, research and development collaboration, as well as to facilitate direct B2B interactions.
We look forward to close dialogue with Finnish companies and business associations. Among most attractive spheres of cooperation we see agriculture production, digital and green energy solutions, joint projects on low-carbon hydrogen production as well as participation of Finnish companies in national and local investment programs and projects. I strongly believe, that success stories of Finnish investments in Ukraine like Konecranes will inspire others to follow the path.
I'd like to stress on progress of institutional modernization in Ukraine and Ukraine's integration to the European Union. Even though the outbreak of COVID-19 has put certain restrain on practically all spheres of life throughout the world, Ukraine continues to implement essential reforms. Among signs of the success are opening free wholesale and retail electricity market in 2019-2020, breakthrough in natural gas market liberalization in 2020, opening land market in July 2021, a new legislation on significant investments protection and incentives approved in December 2020 and other steps to bring national legislation in line with the EU law, norms and standards as required by the Association Agreement between Ukraine and the European Union.
Along with improving business climate, digitalization and simplification of main processes of doing business there is a regional dimension of opportunities. The decentralization reform in Ukraine is on-going and creating a wide range of opportunities for engagement of foreign private companies to implementation of local and regional investment projects.
It is also critically important that Ukraine – Finland development cooperation is fully in line with the UN sustainable development goals for 2030. It's a real driver for reforms in Ukraine in spheres of education and energy efficiency.
In August 2021 Ukraine with all our international partners and friends will celebrate the 30th anniversary of Ukraine's Independence. That's an excellent opportunity to boost cultural exchanges to help Ukrainians and Finns rediscover each other. In the post-COVID people-to-people contacts, including cultural and recreational tourism will be crucial for rehabilitation after long lockdowns and teleworking.
To make business and travel plans in advance, as Finns like, I invite everyone to explore Ukraine's brand new official website Ukraine.ua. This digital platform will help to get first impressions of Ukraine and discover its opportunities for investing, studying and traveling.
Expert article 2912
> Back to Baltic Rim Economies 2/2021
To receive the Baltic Rim Economies review free of charge, you may register to the mailing list.
The review is published 4-6 times a year.