Ukraine: Reflect on 2020 to move forward in 2021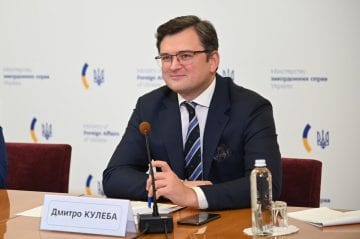 Dmytro Kuleba,
Minister for Foreign Affairs,
Ukraine
This year Ukraine celebrates a historic milestone — the 30th anniversary of its independence. At the dawn of the 2020s, Ukraine stands firmly on its European and Euro-Atlantic integration path that it affirmed during the Revolution of Dignity and has been able to defend for the last 7 years despite Russian aggression.
Turning thirty is a time to be proud, but also time to reflect on what has been achieved and what lays ahead.
Ukraine has managed to achieve significant progress in strengthening democratic institutions and the rule of law, advancing essential social and economic reforms. Our reform agenda has always been full of tasks, and many of them are still ahead. Ukraine's government is fully determined to step up efforts. But to achieve further success, it is important to acknowledge what has been done so far.
Ukraine's state budget already saves billions of dollars annually thanks to the anti-corruption reforms, especially in public procurement, energy market, decentralization, and banking sector. Volodymyr Zelenskyi's presidency achieved a number of major milestones last year, including a historic Land market reform previously stalled for decades, an important banking law ensuring stability of Ukraine's banking system and NATO recognizing Ukraine as its Enhanced Opportunities Partner.
Last year was challenging. The COVID-19 pandemic forced countries to mobilize all available resources. What matters most in such times is solidarity. In December 2020 the EU disbursed a 600 mln euro tranche of Macro-Financial Assistance, significantly supporting Ukraine's efforts to counter the impact of the COVID-19 and sustain economic stability and resilience.
The pandemic has also challenged economies and business communities. Ukraine's GDP growth is expected to fall by 5.8% in 2020 compared to a previously projected increase of 3.7%. The good news is that growth of around 4.6% will resume already in 2021.
I'm optimistic of Ukraine's economic recovery in 2021 for a number of good reasons. Among them are a sustained global demand for agricultural and industrial produce, a well-reformed and stable Ukrainian banking system, lower energy prices and further structural transformations in Ukraine in cooperation with international partners.
I am glad to see that Ukraine's agricultural sector and banking system have proven their sustainability and credibility against the backdrop of the pandemic.
Land market will launch on July 1st 2021, and it is expected to boost not only Ukraine's agricultural sector, but its economic growth in general.
We have actively supported SMEs through difficult COVID-19 times providing them with EUR 550 million within the "5-7-9" affordable loans program. Additional EUR 350 million are reserved for 2021.
Ukraine has significantly updated its legislation on investment, introducing new tools to attract and support investors. The ongoing decentralization reform unlocks a wide range of opportunities for foreign businesses to engage in local investment projects.
Ukraine further moved up seven ranks in the World Bank's 2020 Doing Business ranking and two ranks in the Global Innovation Index 2020.
Two free trade agreements with Israel and the United Kingdom launched on January 1st 2021.
Integration with the EU has been deepening too. At the 22nd Ukraine-EU Summit in Brussels last year, leaders of Ukraine and the EU affirmed the strategic nature of Ukraine-EU relations, recognized Ukraine's European aspirations, acknowledged Ukraine's progress in implementing the Association Agreement and set a focused Ukraine-EU agenda for 2021 and beyond.
The EU remains Ukraine's largest and most important trade partner with 40,7% share in Ukraine's foreign trade (in goods).
The European Green Deal creates new opportunities for Ukraine's further integration with the EU through sectoral associations and alliances on raw materials, batteries and hydrogen.
This year we look forward to beginning formal negotiations on the first Ukraine-EU Agreement on Conformity Assessment and Acceptance of Industrial Products.
This year we launch a new international cooperation mechanism, the Crimea Platform, with the general aim to consolidate international response to Russia's illegal attempt of Crimea annexation. The Platform is aimed at solidifying the global non-recognition policy, responding to growing security challenges, increasing international pressure on Russia, preventing further human rights violations and protecting victims of human rights abuse, as well as bringing closer the day of eventual de-occupation of Crimea and its return to Ukraine.
Challenging times demand solidarity, courage and resilience. Last year has already proven that Ukraine and its European partners are ready to work hand in hand and strengthen each other. This gives me optimism as I look ahead at our path in 2021.
Expert article 2904
> Back to Baltic Rim Economies 2/2021
To receive the Baltic Rim Economies review free of charge, you may register to the mailing list.
The review is published 4-6 times a year.