When it comes to greyzone threats, China overshadows Russia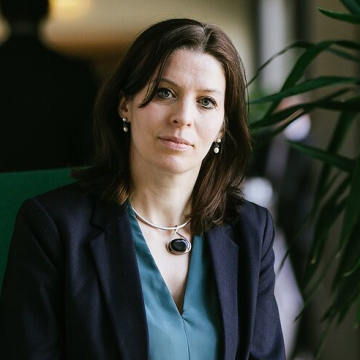 Elisabeth Braw,
Senior Fellow,
American Enterprise Institute,
Washington, USA
For years, there has been enormous discussion about Nord Stream 2 and whether it should be seen as primarily a business deal – or whether it is a geopolitical threat because Russia could use it as a tool of greyzone aggression against Europe. In the past year, as President Joe Biden decided to lift US sanctions on Nord Stream 2, allowing the pipeline's construction to be completed, that discussion has grown more intense still. At the same time, China is already systematically practicing the coercion the West worries Russia will engage in. When it comes to greyzone aggression, China overshadows Russia.
On 25 September this year, two Canadians named Michael Kovrig and Michael Spavor were freed from prison in China. They had been in detention for some three years after being arrested, accused of espionage and tried in a court that Canadian diplomats were barred from entering. When Kovrig and Spavor were arrested, what stood out was that they were arrested on highly spurious charges – and that the arrest occurred soon after Huawei's chief financial officer, Meng Wanzhou, had been detained in Canada. The Canadian authorities were acting on an international arrest warrant issued by the United States, which accused Meng of lying to a US bank regarding Huawei's activities in Iran. Her lies led the bank to continue its relationship with Huawei and thus to unwittingly violate US sanctions on Iran. The Chinese authorities responded by arresting Kovrig and Spavor, while denying that the men's detention had anything to do with Meng's arrest. Then, on 24 September, Meng and US authorities reached a deal under which Meng admitted the charges but was allowed to return to Canada. Hours later, Kovrig and Spavor were freed.
This is just one of many episodes in recent years where China has used extraordinarily devious means to try to achieve its goals. When Sweden decided, in late 2020, to exclude Huawei from its 5G network, Chinese officials including China's ambassador to Sweden declared that Ericsson would suffer the consequences. They made their statements despite the fact that Ericsson is fully private while Huawei has close links to the Chinese government – a fact powerfully demonstrated by Beijing in the Meng case. This year it became clear that the Chinese threats regarding Huawei were not idle talk. Ericsson's quarterly results for the second quarter showed that sales had increased around the world – except in China, where they had declined. In addition, in China Mobile's 5G new contract round this July, the carrier awarded only two per cent of the contract to Ericsson, down from eleven per cent in the previous round.
In recent months, China has also imposed punitive tariffs on Australian wine after Australia's government proposed there be an international investigation into the origin of Covid-19. Around the same time, China also suspended imports of other Australian products including beef and barley. A couple of months later, China suspended imports of Taiwanese pineapples, a move likewise interpreted as punishment. In 2010, after the Norwegian Nobel Committee awarded the Nobel Peace Prize to Chinese dissident Liu Xiaobo, China reacted in a similar manner, suspending imports of Norwegian fish. And for years, the People's Liberation Army and other Chinese government bodies have been conducting cyber aggression against Western and other countries, often with the intent gaining access to intellectual property that Chinese companies can use to build products that compete with Western ones.
Russia has done nothing of this magnitude in recent years. That is not to say that Russia voluntarily abstained from it. The Kremlin may well have wanted to conduct such greyzone aggression against various countries, as aggression in the grey zone between war and peace is a highly effective way of strengthening one's stature at the expense of other countries'. Russia, though, lacks most of the opportunities China has to exercise greyzone aggression against the West. Whereas China has a vast population, a fast-growing economy, and a steadily improving infrastructure that make the country attractive both for manufacturing and as an export market, Russia has a smaller population and stagnant economy. Western companies manufacture little in Russia, rarely use Russian companies in their supply chain, and are not dependent on Russia for their exports. That removes greyzone forms of aggression involving globalisation from Russia's potential arsenal.
To be sure, Russia engages in highly effective cyber aggression, another main area of greyzone aggression. Recent attacks on the Norwegian parliament, the Bundestag, America's Colonial Pipeline, the US government (which was attacked through the company Solarwinds) have all been attributed to the Russian government or criminal gangs seemingly tolerated by the Russian government. Russia also excels at disinformation. But that is it, while China can use the globalisation the West has enthusiastically pursued for at least three decades to strengthen its position and weaken that of the West. Yes, it could try to harm Western companies and individuals, but Russia depends so much on Western business that it would not risk using a couple of random Westerners as bargaining chips. China has no such concerns.
Expert article 3083
> Back to Baltic Rim Economies 4/2021
To receive the Baltic Rim Economies review free of charge, you may register to the mailing list.
The review is published 4-6 times a year.