Corona changes Germany – good news for Finland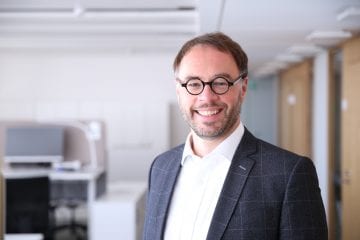 Jan Feller,
Dr., Managing Director,
German-Finnish Chamber of Commerce (AHK Finnland / Saksalais-Suomalainen Kauppakamari),
Helsinki, Finland
Many Finns know that Germany is Finland's most important trade partner. Few, however, are aware of the magnitude: Every year, Finland exports more to Germany than it does to North-, Central-, and South America combined.
While the Coronavirus pandemic has had a detrimental short-term effect with Finland's exports to Germany plummeting by 30% in the first half of 2020, the long-term perspectives for the country are rather positive. The opportunities are driven by three factors: the pandemic, Germany's notorious slowness in digitalisation, and decarbonisation efforts.
Corona exposes weaknesses – and strengths
The COVID-19 pandemic has put the German economy under pressure – like so many others. In addition to the economic costs of measures against the spread of the corona, Germany's economy has already been under pressure before. The country's key automotive sector is being squeezed from different directions. Next to the efforts in expanding e-mobility, almost the entire industry including its various suppliers need to increase their digitization.
Since spring 2020, the German government is fighting the economic crisis with stimulus packages of unseen dimensions, many of them aiming to make the country future-proof while stimulating the economy. Interestingly, many of the areas that Germany will spend the 130 bn € stimulus launched this summer are areas where Finnish companies have innovations and products to offer. Be it artificial intelligence, quantum computing, smart energy solutions or the digitalisation of the health sector – significant market opportunities will arise over the next two years.
Stimulus aside, German manufacturing companies are working on making their supply chains more resilient. This summer, more than 20.000 manufacturing companies stated that they are actively looking for new or parallel suppliers – 60% of which stated to be looking for new partners within the EU.
Digitalisation: Finland has it, Germany needs it
While Finland is Europe's most digital country, digitalisation in Germany has lagged in many sectors. This dynamic is visible when looking at the roughly 50 Finnish companies which we as German-Finnish Chamber of Commerce are helping to enter the German market each year: Today, more than a third of those companies have digital solutions to offer. Be it e-health, automotive software, AI-based production tools or learning solutions, Finnish companies are among early innovators.
An area where many aspects of digitalization come together, are smart cities. While Germany still has difficulties getting the country covered with broadband internet, Finland is already reaching the next level: In their Smart City-project, the city of Espoo is testing streetlights with 5G transmitters. Billboards or bus shelters could follow. The new infrastructure should ensure large bandwidths and high reliability of data transmission. In other projects autonomous busses are being tested and sensors are even installed in garbage containers to measure and communicate the level to optimize the routes for garbage trucks.
Decarbonisation efforts open opportunities
Humankind's biggest challenge, fighting climate change through decarbonisation, also plays in Finland's favour and influences the economic relations to Germany. Both countries follow similar goals of decarbonising, but the key industries are different. Looking at the German automotive sector again, the share of electric vehicles in Germany is rising. Almost 18 percent of newly registered cars in October 2020 in Germany were electrically powered – a record. From January to October, new registrations of e-cars have tripled (+192 percent) to 252,531, with an overall market share of 10.9 percent.
Finland again is uniquely positioned to provide almost all ingredients for batteries in an ethically and ecologically sourced way. This has already attracted large investments such as the 400 million Euro facility German BASF is building in Harjavalta, located in the south-west of Finland. The chemical pre-products from Harjavalta will be further processed in BASF's site in Schwarzheide, some 120 km south of Berlin. Before the BASF decision to build a factory in Schwarzheide, Tesla had announced to start producing in Grünheide, even closer to Berlin, and not far from BASF's battery plant.
Finnish car producer Valmet Automotive has recently announced that they will open a second battery production site in addition to their Salo-based operations, also located in south-western Finland. As a contract manufacturer and Tier 1 system supplier for German car producers like Daimler among others, the Finns have sharpened their strategic focus to e-mobility and electric vehicles. Beyond batteries, Finland has a competitive edge in smart energy systems, energy efficiency solutions, and renewable fuel.
Germany is one of the world's most competitive markets – but traditionally Finns have had good success on the German market. The current crisis causes a large transformation in Finland's biggest export market and brings a multitude of opportunities along. The right time to seize those is now!
Email: jan.feller@dfhk.fi
Expert article 2840
> Back to Baltic Rim Economies 4/2020
To receive the Baltic Rim Economies review free of charge, you may register to the mailing list.
The review is published 4-6 times a year.