Germany: A global trader with a European focus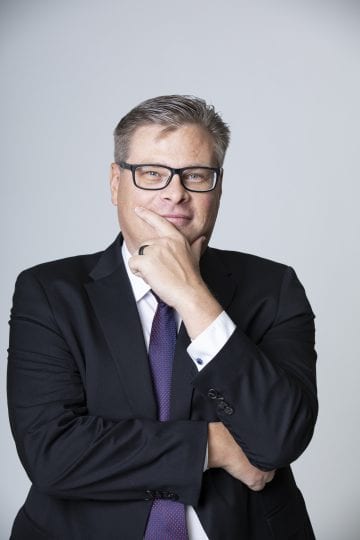 Kari Liuhto,
Professor,
Pan-European Institute, Turku School of Economics, University of Turku,
Turku, Finland
With a population surpassing 80 million, Germany forms the core of the EU economy. It accounts for one quarter of the EU's GDP, and the average standard of living of Germans is significantly above the average for the European Union as a whole. Germany has also been more successful in combating coronavirus than its Western European counterparts. By the beginning of December, less than 20,000 people had died of coronavirus in Germany during the pandemic, a figure that is just one third of the death tolls for France, Italy or the United Kingdom, all of which have smaller populations than Germany. Thanks to its successful fight against coronavirus, Germany's unemployment rate has also remained clearly below the EU average.
Germany is a major global trader. It is the world's third largest exporter after China and the USA. For Germany, foreign trade is exceptionally important. Its foreign trade-GDP ration is 70%, compared to only around 20% in the USA and 35% in China. Without large-scale foreign trade, Germany would have a much lower standard of living. Indeed, such a situation would lower the standard of living in the whole of Europe, as the rest of Europe is dependent on German economic development. Restricting global trade is therefore poisonous not only to Germany but to European prosperity as a whole.
Although Germany is a global trader, the map shows that Europe is Germany's trading stronghold. Among Germany's top 10 trading partners, there are only two non-European countries, namely the USA and China. Germany has benefited a lot from the Eastern enlargement of the European Union. As a sign of it, Germany accounts for more than 20% of the imports to several Central East European countries.
Cars and car parts account for the largest share of German foreign trade. Last year, they accounted for 17% of German exports and 12% of imports. To put it in stark terms, whatever stops German car exports also stops the growth in European prosperity. This is why defending free global trade should be the main objective of all European governments.
As a country with little natural resources, Germany is largely forced to import its raw materials and energy from abroad. Due to its large-scale energy imports from Russia, Russia's share of Germany's energy imports is disproportionately high. Otherwise, Russia's share of Germany's total foreign trade is low (less than 2.5% in 2019). Germany imports approximately one third of its crude oil and almost half of its natural gas from Russia, and imports of natural gas are likely to grow as Germany closes its nuclear power plants in 2022. The societal impact of the closure of nuclear power plants should not be over-played, however, as nuclear power represents only five percent of German energy consumption.
Although the US sanctions have halted the Nord Stream 2 gas pipeline project, the fate of this pipeline has not been sealed yet. Moreover, it will be interesting to see whether Germany will build during this decade its first LNG importing port. Although pipeline gas and LNG compete for the same consumers, it should not be forgotten that these two different forms of the same product are complementary rather than mutually exclusive. The price ultimately determines the final supplier of the gas.
The future of the European Union is overshadowed by several problems, such as the corona pandemic, Brexit, populism, the refugee issue, excessive debt, and the ageing population. Nevertheless, hope for the future can be seen in the fact that the corona vaccine is already on the market and in the IMF forecasts of 4–5% growth in GDP next year for Germany and the whole Euro Area.
Map. Germany's share in imports in 2018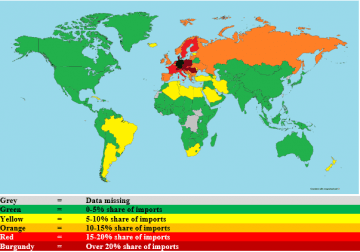 Source: World Bank.
More precise information on Germany's economic role in the Baltic Sea region can be found at: https://www.researchgate.net/publication/344786950_The_Baltic_Sea_region_BSR_in_2020
Expert article 2854
> Back to Baltic Rim Economies 4/2020
To receive the Baltic Rim Economies review free of charge, you may register to the mailing list.
The review is published 4-6 times a year.