Great Stone Industrial Park: On the way to success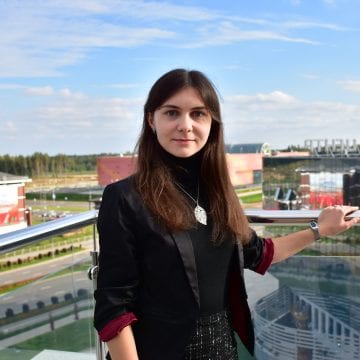 Kate Marchuk,
Investor Relations Manager,
Great Stone Industrial Park Administration,
Republic of Belarus
While the business all over the world is facing with the economic difficulties caused by the coronavirus, it is of great importance for companies to operate in favourable business conditions so that to have an opportunity to generate resources for future development. In this regard industrial parks as platforms with special legal regime are becoming of great use for companies willing to overcome economic crisis and pave the way for prosperous future. Industrial parks give their residents access to tax and other benefits, provide them with ready-made infrastructure and even ready-made industrial facilities. Being launched in 1896 in Manchester, the first industrial park gave start for development of industrial parks all over the world.
One of the largest industrial parks in Europe – Great Stone Industrial Park is located in the heart of Belarus. It is an international platform created by Belarus and Chinese governments for development of high-technological industries of future. Great Stone is a Greenfield industrial park and its construction was started only 5 years ago in 2015. However, due to the dynamic construction activities nowadays the infrastructure of the area of 8.5 square kilometres is already built. As for land plots in the Park, companies can rent or buy it. In order to give companies possibility to start their projects easily, standard industrial buildings have been built on the Park territory. As well office building, business centre, warehouses, residential house and the largest in Belarus exhibition centre are already functioning in Great Stone.
As Great Stone is located only 25 kilometres away from Belarusian capital Minsk, where the main Belarus universities are located, this city became the main source of highly qualified labour force for the companies working in the Park. Such neighbourhood created prospects for conduction of R&D in Great Stone, therefore in 2020 the Center for the Commercialization of Innovation has been build. The Center will give the opportunity to fulfil the whole cycle of procedures to commercialize innovation, starting from the idea of Belarusian and foreign scientists to the real product.
The Park's special legal regime guarantees unprecedented privileges and benefits for the Park residents, for example exemption from income tax for 10 years since income occurs (after 10 years income tax is halved until 2062), complete exemption from real estate tax and land tax until 2062, exemption from customs fees and VAT on raw materials and equipment imported for the implementation of the project, etc. These privileges create the best conditions for doing business in Belarus and other Eurasian Economic Union countries.
One of the most interesting business services Great Stone provides its residents with is One-stop shop which is a system that offers multiple services for companies. This system is based on the experience of creation of such systems in China-Singapore industrial park in Suzhou and is unique for Europe. The main advantage of the One-stop shop is provision of all required procedures in one place, for example: administrative procedures for registration of a legal entity; procedures related to the entry or exit of the country for foreign citizens; land management procedures, design and survey procedures; certification of goods, work, services, et cetera. This helps companies to be provided with services in the shortest period of time. On-line multi language version of one station system was launched as well.
For sure, the main idea of any industrial park is industrial development and attraction of companies. Nowadays 65 companies from 14 countries are registered as residents of Great Stone, 24 of them have already launched production. All in all park residents declared long-term investments more than USD 1.2 billion, all the participants have already invested about USD 600 million in infrastructure development and project implementation.
Geographical location of the Park and its proximity to airport, railway routes and highways created conditions for construction of the multimodal transport terminal. It will provide the transhipment of goods up to 180 000 TEU per year and will give an opportunity for the provision of a full range of production logistics services. The project was launched in 2020 with participation of Duisburger Hafen AG which is the owner and operator of the Port of Duisburg and at the same time one of the shareholders of Great Stone. Total investment in the project is estimated more than 30 million euro. The terminal is to become the third most important point on the railway route connecting China with Europe.
Great Stone Industrial Park is a good example of the inter-country cooperation. It is eager to use all the advantages it has in order to become a platform where companies from all over the world can easily conduct their business no matter what is happening in the world. For sure, Great Stone as an international industrial park is a great opportunity for companies to get the best business conditions provided by the special legal regime. The Park management is going to develop Great Stone into a modern eco-city with population more than 130 thousand people combining industrial, living, administrative infrastructure and environmental sustainability.
Email: marchuk@greatstonepark.by
Expert article 2774