Latvia's support for Ukraine is unconditional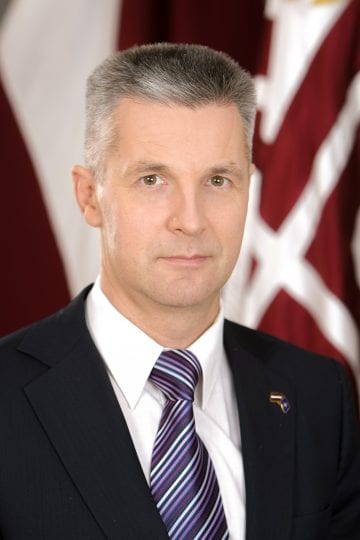 Artis Pabriks,
Dr., Deputy Prime Minister,
Minister of Defense of Latvia
Ukraine's presence in Latvia's foreign policy site make an interesting and a rare example of multidimensional cooperation. Even though there is no physical border between Latvia and Ukraine, the joint past ties both countries together more than it might initially seem. There are two particularly significant periods: the brief cooperation between the governments of Latvia and Ukraine from 1917 to 1920 and the soviet era. Despite the generally negative burden of soviet heritage, relationship between the two states as of today is widely acknowledged in society and countries official political discourse.
For Latvia, being a member and taking part in European Union's, NATO's and other Euro-Atlantic structure's decision-making has become almost synonymous with independence. Main directions for Latvia's Foreign Policy was articulated in back in the 1995, when the so called "return to Europe" was articulated in documents where the integration in the European Union and Trans-Atlantic security structures was pursued as key focus of Latvia's foreign and security policy, since it was seen as necessary condition to guarantee the irreversibility of our independence.
"The Orange Revolution" in Ukraine, as an immediate outcome of the run-off vote of the 2004 Ukrainian presidential elections was a fundamental turn in the relationship between Ukraine and Latvia. It was the year when Baltics joined EU and NATO, so for Latvia as well as for other Baltic states this meant that Ukraine had finally stepped onto a path of change for better governance and democracy.
In Latvia Russian aggression towards Ukraine and annexation of Crimea was seen as a threat to Latvia itself. Because of the seemingly possible chance of conflict on Latvian soil, attitude towards Russia among Latvian policymakers, civil society and Latvians in general changed rapidly. Thus, giving additional impulse for strengthening Ukrainian – Latvian relationship. Latvia's support towards Ukraine due to Russia's aggression in Ukraine has become more and more necessary and important. For fact Latvia's Ministry of Defense and the National Armed Forces have suspended all military cooperation with Russia for the past five years. As of today, Latvia provides support for strengthening the capabilities of the Ukrainian armed forces, for example by providing training to instructors of the Ukrainian regular forces in the framework of the NATO Military Development Project. This year alone Latvian soldiers have provided three training courses for Ukrainian instructors.
Since summer 2014 children of Ukrainian armed forces and Ukrainian National Guard soldiers have received consignments such as school supplies, electronics, as well as Christmas gifts. Since 2017 humanitarian shipments with support of Latvian people and government have been delivered directly to the area of Donetsk, where both soldiers and civilians are most in need. Also in 2017 Latvian Youth Guard launched a tradition of organising summer camps for the children of soldiers from Ukraine in Latvia, thus providing an opportunity for both Latvian and Ukrainian children familiarise themselves with European values, get to know Latvia and it's people in order to build even stronger bond between our countries.
In support of the request of the Ukrainian side for the rehabilitation of persons affected by the military conflict, the Latvian government granted funds for the rehabilitation of persons affected by the conflict in Ukraine. Latvia began providing medical assistance to persons injured during military clashes in the east of Ukraine in 2014. Until now, a total of 42 citizens of Ukraine have received necessary assistance in Latvia.
Latvia unconditionally supports Ukraine's efforts for further integration into the European Union and NATO. Latvia's cooperation with Ukraine is one of the priorities pursued in the format of bilateral cooperation as well as in other international formats. In the future we will continue this cooperation and try to extend it.
Expert article 2575