The WTO delivers a bountiful result – but what's next?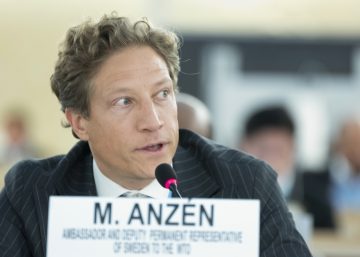 Mikael Anzén
Sweden's Ambassador to the WTO
Early in the Geneva morning of 17th June, the WTO's twelfth Ministerial meeting – MC12 – came to a close. The agreed package, hammered out over four days and two nights of intense negotiations, actually concluded four and a half years of negotiations since the last ministerial gathering held in Buenos Aires in 2017.
MC12 took place under challenging conditions, in the immediacy of a global pandemic that paralyzed the world economy and created major disruptions to global supply chains and against the backdrop of mounting climate challenges. Russia's unprovoked aggression of Ukraine has fueled further fragmentation, both politically and economically, stoking inflationary pressures through adverse effects on energy and food markets. The pressure on trade ministers to deliver a credible result could hardly have been greater.
Defying the odds, trade ministers delivered a major boost to global trade governance and multilateralism by delivering an MC12 package featuring six key elements:
Firstly, ministers brought 21 years of arduous talks to closure by agreeing to ban harmful fisheries subsidies. This landmark agreement, the first ever to put environmental objectives at the core of WTO mandates, responds to SDG 14.6 and prohibits subsidies for illegal, unreported and unregulated fishing (IUU) while setting the stage for future disciplines on overfished stocks and for fishing on the high seas.
Secondly, ministers agreed to an overall Ministerial Declaration whose centerpiece is the launch of a formal WTO reform process, including a fix to the long-paralyzed Dispute Settlement Body by 2024.
Thirdly, ministers reached agreement on long and difficult negotiations on the WTO's response to the pandemic. They did so in two guises:
A legally binding agreement waiving certain provisions governing trade-related intellectual property rights to facilitate the production of COVID-related vaccines, therapeutics and diagnostics in developing countries; and
A Ministerial Declaration focusing on facilitating trade in medical devices and protective equipment, strengthening the resilience of medical value chains, avoiding recourse to restrictions on medical goods exports and ensuring heightened transparency of policy responses.
Fourthly, trade ministers addressed the food security crisis through a Ministerial Declaration underlining the critical importance of the free movement of food and calling for restraint in the use of restrictive trade measures. This sends an important political signal, particularly as it was complimented by a fifth – a Ministerial Decision exempting food purchases by the UN's World Food Program from export prohibitions or restrictions. Sixth, WTO member countries provided a boost to the world's digital transition by extending a moratorium on customs duties on electronic transactions until the next ministerial meeting or no later than March 2024. For the business community, this ranked among MC12's most pressing deliverables.
The MC12 package marks an important step forward for an organization that has come under severe criticism in recent years. It is also a much-needed shot in the arm for multilateral governance, showing that the rules-based global trading system can deliver tangible results. The outcome also rewards the WTO Director-General's tireless efforts at finding common ground among an increasingly diverse membership. For WTO Members, MC12 was also about breaking a mental barrier to reaching agreements in Geneva.
 What now?
The WTO must now kickstart work on all MC12 mandates. Members must be ready to take the first steps of a comprehensive reform process. In doing so, they must ask why producing negotiated outcomes on any topic has proven so hard in the past; what institutional adjustments are needed to enhance Members' ability to produce multilateral outcomes; whether a more flexible governance architecture can best serve the organization's disparate membership; and whether decisions need to continue to be taken on an explicit consensus basis?   An important missing piece in global trade diplomacy has been the ebbing voice of the business community. As the ultimate "end-users" of WTO rules, the case for including the business community in a structured dialogue on multilateral trade matters is compelling. Doing so would add a needed dose of urgency to negotiating advances. Looking forward, the WTO must also embrace new frontiers in trade, which will be ever more digital and service-centric in nature. Trade must also be harnessed as a key tool for fighting climate change. There is much that trade, and the WTO, can do to place the world and its citizens on more sustainable production and consumption pathways.  Finally, the ever-challenging issue of addressing distortions to agricultural trade, which MC12 punted to the next ministerial meeting, needs to be tackled. It is imperative that Members show a readiness to undertake necessary commitments by then to reach as good a result as those brokered at MC12.
Expert article 3270
>Back to Baltic Rim Economies 4/2022
To receive the Baltic Rim Economies review free of charge, you may register to the mailing list.
The review is published 4-6 times a year.