Prof. Kenneth Odero: A brief review of Beitbridge Border Crossing Point activities during COVID-19 between Zimbabwe and South Africa
[Photo is not from Beitbridge BCP]
Prof. Kenneth Odero, Climate XL Inc.
A brief review of Beitbridge Border Crossing Point activities during COVID-19 between Zimbabwe and South Africa in March-April 2020
Over 30 African countries (including Zimbabwe) have instituted measures to limit the spread of COVID-19 since March 2020. Some of the measures include the following:
Strengthening screening and testing capacities at various ports of entry as well as the vigorous enforcement of screening and testing at all major entry ports.
Closure of designated small border crossings; suspension of duty and tax on various goods and services related to testing, protection, sterilization, among other medical consumables to allow for duty-free importation.
Supporting the local industry to identify capacity to produce basic foodstuffs and pharmaceuticals locally within the shortest possible time and to provide services as an import substitution measure.
Table below lists some of the measures instituted to date in Zimbabwe.
Table 1: COVID-19: Trade and trade-related measures in Zimbabwe in spring 2020
Statutory Instrument 92 of 2020: Public Health (Standards for Personal Protective Apparel, Materials and Equipment) Regulations, 2020
Statutory Instrument 90 of 2020: Control of Goods (Open General Import and Export Licence) (Amendment), 2020
Statutory Instrument 88 of 2020: Customs and Excise (General) (Amendment) Regulations, 2020
Statutory Instrument 83 of 2020: Public Health (COVID 19 Prevention, Containment and Treatment) (National Lockdown) Order, 2020 (as amended)
Statutory Instrument 77 of 2020: Public Health (COVID 19 Prevention, Containment and Treatment) Regulations, 2020 (as amended)
Despite their limited objective, the above measures inevitably tend to have intended and unintended consequences. They (i.e., both measures and their effects) tend to be nuanced, unclear and not easy to track. Take, for example, the requirement for vigorous enforcement of COVID-19 screening and testing, especially of truck drivers at all major entry ports. While this requirement might serve to contain the spread of the virus across borders (positive effect), it could inadvertently and simultaneously slows regional and international trade flows (negative effect).
Without reliable data on border activities such as the amount of time to clear customs, and idling time of trucks, among other metrics, it is impossible to determine the level of trade-off involved in any of the measures. Anecdotal evidence based on media reports suggests truck drivers are increasingly facing inordinate delays at border crossings along major corridors.
A statement by the Common Market for Eastern and Southern Africa (COMESA) Business Council issued on the 17th April 2020 called for measures to facilitate the movement of essential goods and services across borders. The statement underlined the potentially disruptive effects of the COVID-19 pandemic on transport and logistics operations. Concerns raised include the following:
Mandatory 14-day quarantine for truck drivers (often without a risk assessment mechanism or consideration of type of goods on freight) leading to delays at the borders as well as increased but avoidable costs;
Delays/denial of entry for transit cargo affecting deliveries and resulting in high demurrage costs; and
Holding up of drivers without proper accommodation facilities causing a health risk.
Zimbabwe depends on a network of corridors, cross border transport and logistics services for both regional and international movement of tradable goods and services. Beitbridge border post between Zimbabwe and South Africa is one of the busiest along the North South Corridor (Fig. 1).
Figure 1. The main transport corridors in Southern Africa and the location of the Beitbridge Border Crossing Point (BCP) between Zimbabwe and South Africa. Source: ECDMP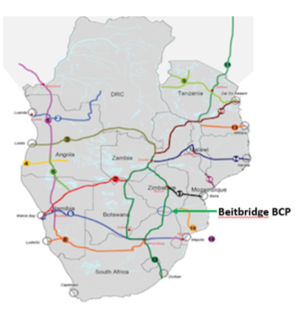 Based on the most recent available statistics (January 2020, i.e. before stay-at-home lockdowns and other non-pharmaceutical interventions such as "social distancing" were instituted), it took on average 13.8 (median) hours to complete import processing at the Beitbridge border. This is a relatively efficient level of performance compared to other borders in the region.
The Zimbabwe Customs Administration at the Beitbridge border post is reported to have activated its risk management system in response to COVID-19. Accordingly, most of the processes are done online to reduce direct contact and exposure to the virus. Most physical examination of goods is also suspended.
If this is accurate as reported, it would suggest that Beitbridge has dodged the many challenges faced in many other border crossing points throughout Africa. The implication is that coordination of border management between South Africa and Zimbabwe has been rather efficient.
To put this into perspective, South Africa is Zimbabwe's largest trading partner. According to the Western Cape based Trade Law Centre, 79% of Zimbabwe's intra-Africa trade is with South Africa (corresponding to 44% of Zimbabwe's total trade). In 2018, 79% of Zimbabwe's imports were from South Africa, and 80% exports were to South Africa.
Situated in southern Africa, Zimbabwe has a total population of nearly 14 million (2019 est.) occupying some 390,757 square kilometres. One of Zimbabwe's main exports is raw tobacco, accounting for more than half (51%) of its exports in 2017 valued at US$997 million. The 2020 marketing season, which usually starts in March, was delayed by a month due to the COVID-19 pandemic. The new season only kicked in on April 29. It remains to be seen how this season's tobacco export will be managed given its dependence on road freight transportation. In 2019, the country sold 259 million kg of tobacco leaf worth US$518 million.