Research topics: Autophagy and the small GTPase RAB24
Membrane dynamics during autophagosome biogenesis
Autophagy is a lysosomal degradation pathway for cytoplasmic material and organelles, which maintains cellular homeostasis during nutrient deprivation and stress. We investigate the membrane dynamics during autophagosome biogenesis using advanced imaging techniques including three-dimensional electron microscopy, live-cell imaging and correlative light-electron microscopy.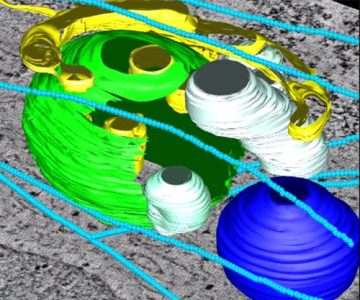 The small GTPase RAB24
RAB24 is a small GTP-binding protein that we showed to function in the late phase of the macroautophagy pathway. RAB24 is an understudied and unusual member of the RAB protein family. We study the biological functions and molecular mechanisms of RAB24 using modern cell and molecular biology techniques.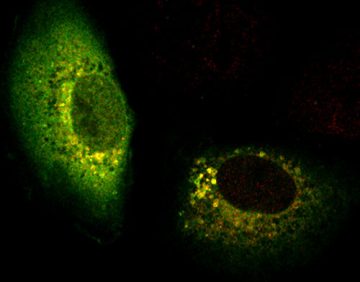 Postdoctoral position is open in our group
Postdoctoral position is available in the laboratory of Professor Eeva-Liisa Eskelinen at the Institute of Biomedicine, University of Turku.
We are looking for a highly motivated person with experience in molecular cell biology to join our research group. The project aims to understand the regulation and function of the small GTP-binding protein RAB24 in mammalian cells. The focus is on characterization of novel RAB24-interacting proteins revealed by our interactome screening. The regulation of RAB24 is relevant to human health, because the protein has been implicated in neurodegeneration, fatty liver and liver cancer.
Fixed-term contract is available until the end of August 2026. Starting date is negotiable, but the earliest possible date is September 2022. Salary will be as detailed in the university salary scale (approximately 3500 – 3700 €/month).
Further information:
eeva-liisa.eskelinen(at)utu.fi
Applications can be sent until August 15, 2022.