Hard ticks in the genus Ixodes, for instance Ixodes ricinus (the sheep or castor bean tick) and Ixodes persulcatus (the taiga tick), have recently increased in abundance in Finland and elsewhere in northern Europe. This has happened in many locations and under different environments, also in urban and suburban areas nearby big cities. Not all of the reasons for these increases have been examined, but a substantial role for the changing climate has commonly been stressed. Shorter and warmer winters, prolonged growing seasons and other climatic changes are suggested to have direct effects on tick and pathogen performance and indirect effects on tick dynamics via density and range shifts in mammalian and avian host animal populations.
Although several tick species are present, at least occasionally, in Finland, only I. ricinus and I. persulcatus are considered as health threats to humans and domestic animals. These two species look superficially similar, and they may occur at same areas and environments. Both species may carry same bacterial, viral and protozoan pathogens, and they also share hosts in nature: e.g. small rodents, hares, deer, raccoon dogs, passerine birds and humans and their companion animals.
Of the tick-borne diseases, borreliosis (= Lyme disease; caused by Borrelia bacteria) and tick-borne encephalitis (TBE; caused by TBE virus) are considered the most serious for public health. The former is treated by antibiotics, whereas people can be vaccinated against TBE, especially in known risk areas.
The research team of the University of Turku investigates Ixodes ticks and tick-borne pathogens using field sampling, citizen surveys and molecular biology tools. See our recent publications below.
See how ticks are sampled using cloth-dragging.
Scientific publications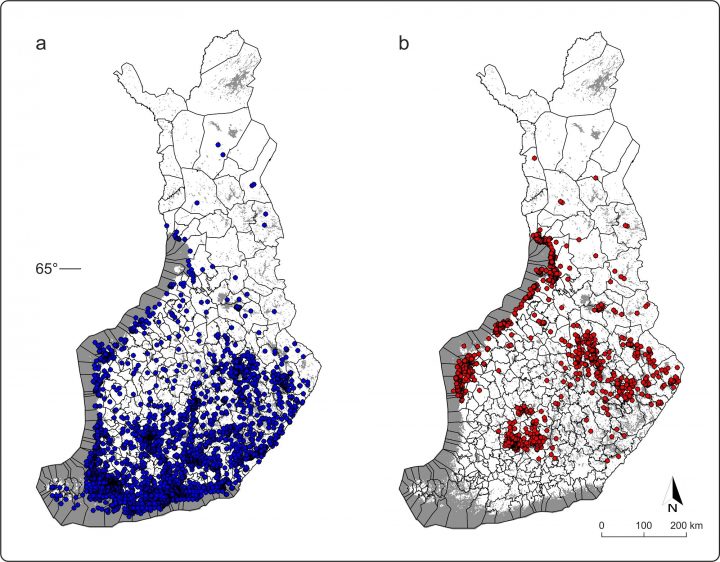 Acknowledgements for financial support
Jane and Aatos Erkko Foundation
University of Turku Graduate School (Doctoral Programme in Biology, Geography and Geology)
Turku University Foundation
Jenny and Antti Wihuri Foundation
Finnish Cultural Foundation (Varsinais-Suomi Regional Fund)
Maj and Tor Nessling Foundation
Academy of Finland
Lääkintöneuvos Sakari Alhopuro
Pfizer Inc. (Finland)
University of Turku
City of Turku
Metsähallitus
Contact