Contact
Career services are open by appointment. Our office is located on the second floor of the university main building.
Arriving for career guidance
Enter through the side doors of the main building and climb the stairs to the second floor. Wait for your turn on the bench next to the door of the Career Services office.
Accessibility: The entrance through the front doors of the main building is accessible. Please use the elevator to reach the second floor.
Mailing address:
Rekry – Turun yliopiston työelämäpalvelut
The Career Services of the University of Turku
20014 TURUN YLIOPISTO
Contact us
Through rekry(at)utu.fi email, you will be able to contact the staff.
You can also contact us through contact form .
Book appointments in JobTeaser or by phone  040 015 3096.
Personnel
Jaana Vesterinen
Customer Advisor
040 015 3096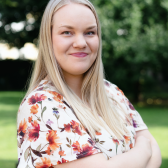 Katariina Ervasti
Project planner
0504722832