Upcoming Events
AUTUMN SEMESTER 2022
DECEMBER
Monday, December 5 12.15/14.15–16.00 Intersectional Reading, Social Justice, and Literary Activism (INTERACT)
ARC 270 and on Zoom: https://utu.zoom.us/j/65719466597
How to read intersectionally?
Originating from the long tradition of Black feminist social movements and literature, Intersectionality today is a research tool that conceptualizes multiple, relational and complex workings of power connected to factors that are relevant to our socio-cultural experience. Intersectionality analyzes how those factors locate people differently in our social and cultural reality. Our project examines the ways literary studies might enable Intersectionality's potential in understanding and unraveling those situated differences.
While intersectionality is not originally a literary theory, we suggest that reading may also be done intersectionally. The act of interpretation can be an intersectional process opening up new horizons for literary texts. In this seminar we explore the ways of reading intersectionally.
12.15-16.00 For students attending the course Reading and Reception Studies.
14.00 Everybody welcome: Please join us in Arc 270 or on Zoom
Programme:
Pre-seminar for enrolled students
12.15-13.45 Intersectional reading workshop and discussion: "Reading with Maryse Condé," with Kaiju Harinen and Marta-Laura Cenedese
COFFEE AND SNACKS
14.15 Liisa Merivuori (UTU): Intersectionally reading the overlapping traumas in Herta Müller's Atemschaukel
14.45 Anna-Leena Toivanen (UEF): Afroeuropean mobilities of the 'African gigolo': Intersectional reading of Simon Njami's African gigolo and Fabienne Kanor's Faire l'aventure.
15.15 Anna Rastas (TUNI): How can an intersectional perspective broaden our understanding of Rosa Clay's life – and the meanings of the different representations of this historical figure?
15.45 DISCUSSION
Visit the project website HERE.
Keskiviikko 7.12.2022 klo 12-16 Neuvostoliitto muistoissa ja mielikuvissa -seminaari (IN FINNISH)
Aika: ke 7.12.2022 klo 12–16
Paikka: Turun yliopisto, Arcanum, Luoma-tila (1. krs)
Etäyhteys: https://utu.zoom.us/j/66734182589 (passcode ilmoittautuneille)
Anna Helteen ja Pia Koivusen toimittaman Neuvostoliitto muistoissa ja mielikuvissa -kirjan (SKS, 2022) ilmestymistä juhlistetaan seminaarissa, jonka esitelmät perustuvat kirjan lukuihin. Kirjassa tutkitaan Neuvostoliittoon liittyviä muistoja ja mielikuvia kulttuurisen muistitutkimuksen näkökulmasta. Seminaari on kaikille avoin, ja sitä voi seurata myös etäyhteyksien päästä. Opiskelijat voivat osallistua halutessaan myös luentopassilla.
Tilaisuuden ohjelma:
12.15 Anna Helle ja Pia Koivunen: Seminaarin avaus. Kulttuurinen muistitutkimus ja Neuvostoliitto
12.45 Anna Laakkonen: Suomenkielinen neuvostolehdistö mielikuvien muokkaajana. Tapaus Punainen Karjala
13.15 Silja Pitkänen: Miten neuvostovalokuvat muistavat?
13.45 Anna Helle: Inkerinsuomalaisten muistaminen suomalaisessa kirjallisuudessa. Konkan perheen tapaus

14.15-14.45 kahvi/kuohuviinitarjoilu

14.45 Riikka Taavetti: "Se ei riipu hallintomallista"? Neuvosto-Viro suomalaisessa populaarikulttuurissa 1980-luvulta 2020-luvulle
15.15 Hannu Salmi: Punakone ja neuvostoliittolaisen jääkiekon muisto
15.45 Pia Koivunen: Neuvostoliiton toiveikkaat kasvot
Ilmoittauduthan 5.12. klo 16 mennessä osoitteeseen anna.helle@utu.fi (tarjoilujen määrän arvioimiseksi ja zoom-salasanan lähettämiseksi). Kerrothan ilmoittautuessasi, tuletko paikalle vai seuraatko etänä.
Tervetuloa!
Kirjan open access -versiota voi lukea ilmaiseksi SKS:n sivuilla osoitteessa https://doi.org/10.21435/skst.1480.
Kirjan aiheesta voi lukea myös SKS:n Vähäisiä lisiä -blogista:
http://neba.finlit.fi/blogi/miksi-neuvostoliiton-muistaminen-on-tarkeaa/
Lisätietoja: Anna Helle, anna.helle@utu.fi
Torstai 8.12.2022 klo 16–18 Sukupuolihistorian uudet avaukset ja haasteet 2020-luvulla (IN FINNISH)
Calonia 2, Turun yliopisto. Järjestäjät: Kulttuurihistorian oppiaine ja SELMA-keskus.
Zoom-linkki tapahtumaan: https://utu.zoom.us/j/69051591344


Naishistoria rantautui Suomeen muiden niin kutsuttujen uusien historioiden kanssa 1970-luvulla, minkä jälkeen tutkimusala on kehittynyt rinnakkain yhteiskunnallisen keskustelun ja siinä tapahtuneiden muutosten kanssa. Nykyisin sukupuolihistorian nimellä kulkeva tutkimusala huomioi paitsi naisten historian myös ihmisten eriarvoisuutta tuottavien risteävien erojen moninaisuuden. Nais- ja sukupuolihistorian kenttä on ollut myös keskeinen elämäkertatutkimuksen uudistaja viime vuosikymmeninä.
Paneelikeskustelun tavoitteena on avata niin traditioita kuin tämän hetken uusia avauksia ja polttavia kysymyksiä. Lisäksi se kokoaa yhteen kulttuurihistorian Lähestymistapoja sukupuoleen ja yksilön elämästä kertomiseen -kurssilla käsiteltyjä teemoja. Panelistit edustavat nais-, sukupuoli- ja queer-historian eri sukupolvia.
Paneelin järjestävät kulttuurihistorian oppiaine, Sukupuoli, kirjoittaminen ja tekstuaalisuus -tutkimusryhmä ja SELMA-tutkimuskeskus. Se on avoin kaikille kiinnostuneille!
Paneelin osallistujat:
Kulttuurihistorian maisteriopiskelija Tiina Tiilikainen (TY)
Kulttuurihistorian väitöskirjatutkija Sari Hartikainen (TY)
Kulttuurihistorian dosentti Kirsi Tuohela (TY)
Sukupuolentutkimuksen yliopistonlehtori Riikka Taavetti
Suomen ja Pohjoismaiden historian apulaisprofessori Anu Lahtinen (HY)
Paneelin vetävät kurssin vastuuopettajat:
Dosentti, kollegiumtutkija (Turku Institute for Advanced Studies) Heidi Kurvinen
Kulttuurihistorian professori (ma.) Maarit Leskelä-Kärki
Kulttuurihistorian väitöskirjatutkija Karoliina Sjö
SPRING SEMESTER 2023
FEBRUARY
2nd – 3rd February, Out of the USSR: Travelling Women, Travelling Memories
University of Turku, organised by the research project Texts on the Move: Reception of Women's Writing in Finland and Russia 1840–2020 (Emil Aaltonen Foundation)

Travelling has always been connected with fundamental social and political changes taking place in societies. Throughout history, one of the countries that people have chosen to leave, move away or have been expelled from, but also a country which they have been going back to, is Russia/the Soviet Union. There is an obvious link between the large transformations that have taken place in Russia since the time of perestroika in the 1990s until the ongoing war in Ukraine and the restrictions of civil rights such as freedom of speech, and the increased mobility out of Russia.
The conference takes these transformations as starting points in examining how individuals reflect on and recall the Soviet/Russian home country in literary presentations, addressing the history of mobility, emigration, family, gender, ethnic or religious background in face of their collective memory in their new place of residence. The meeting points for the proposals are the concepts of travelling/mobility/exile and (post-, trans-/cross-cultural) memory. The focus is on women's fictional texts and memories from the 1980s until today that allow the presentations to address and to acknowledge [e]migrating women writers as mediators of ideas and memories in trans-/cross- cultural contexts. The aim of the conference is to focus on gender in the process of the transformation of cultures through ideas that travel, and to pay special attention to women's contribution to the cultural transfer and mobility of ideas and memories which have not been sufficiently studied and documented.
The conference has its background in the research project "Texts on the Move" , and it is organised by Texts on the Move: Reception of Women's Writing in Finland and Russia 1840–2020 (Emil Aaltonen Foundation),  University of Turku, and Tampere University. The organizers plan to publish an edited collection of papers presented at the conference.
Please send your abstract (title, ca. 250 words, names and affiliations of the presenters) by 20 November 2022 to Viola Parente-Čapková (viocap@utu.fi) and Arja Rosenholm (arja.rosenholm@tuni.fi).
For more information about Keynotes and the call for papers, please keep reading

APRIL
21 – 22th April, Enviromental Narratives: History, Memory, Trauma – CALL FOR PAPERS!

University of Turku
Environmental Narratives: History, Memory, Trauma is a two-day symposium of presentations and discussions on experiencing, narrating, and remembering places in natural environments. The symposium's theme is closely related to the interdisciplinary research conducted in SELMA, which explores the interrelations between storytelling, experientiality, and cultural memory. We are especially interested in contributions examining traumatic histories of natural sites, people's ways of experiencing and narrating specific places in nature, memories of water, forests and other natural environments, water and forests as poetic spaces of mind and memory, and representations of nature and the environment in literature and other media, and of the environmental change in the age of the Anthropocene. The concepts we are interested in exploring range from Simon Schama's "landscape and memory" to Timothy Morton's "ecological trauma". We invite papers on these and related topics in fiction and non-fiction, film, poetry, cultural narratives, history, and folklore.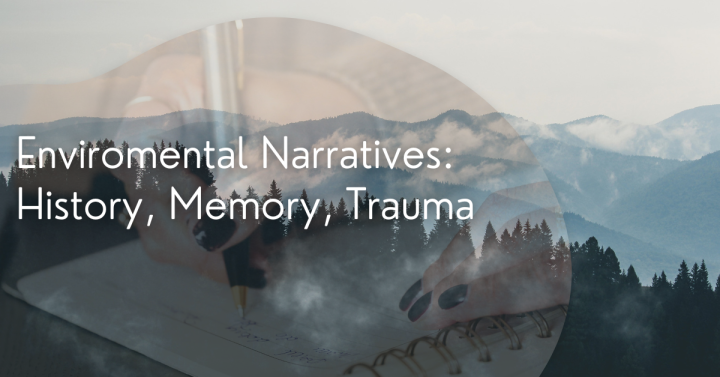 The symposium's keynote speaker is Professor Helena Duffy (University of Wrocław, Poland/University of Warwick, UK) and the title of her talk is "We Are Not out of the Woods Yet: The Forest as a Site of Polish Holocaust Memory in Paweł Pawlikowski's Ida".
Please send your abstract (200–250 words) for a 20-minute paper and a short bio (50–100 words) to Markku Lehtimäki (markku.lehtimaki@utu.fi) by 15 October 2022.
JUNE
15 – 17th June 2023,  Narrative Matters Conference 2023. Instrumental Narratives: Narrative Studies and the Storytelling Boom
University of Tampere
Within the project "Instrumental Narratives" we wish to welcome you to the 11th Narrative Matters conference at Tampere. The conference positions narrative scholars in the midst of the storytelling boom. Everyone is urged to share their story today, from consumers to multinational corporations, from private citizens to nation states. Storytelling consultants are thriving in today's storytelling economy, but where are narrative scholars? Do the professional analyzers and theorizers of narrative have a say in the current storytelling boom? How to engage in a societal dialogue and debate as a narrative scholar?
Pre-conference workshops, hosted by Jens Brockmeier, Alexandra Georgakopoulou, Stefan Iversen & Ann Phoenix, will take place on Wednesday, June 14th. More information on registration and participation will be available by the end of September 2022!
Call for papers is open until 31 October 2022. Please find all the information here.