Sagalund Project funded by Svenska Kulturfonden!
A grove of stories – Sagalund
A home museum as an environmental biography
This project combines research and art in order to study what remains from a life lived in the past. The focus of the research lies in the archipelago of Turku, on Kemiö island and the museum surroundings of Sagalund. Sagalund was built by a local teacher Nils Oskar Jansson, and in this research project both Jansson and other local teacher Adèle Weman and their home museum as well as the garden and nature surrounding the museum area are in the forefront of analysis. Sagalund offers a unique possibility to study archipelago milieu, many layers of cultural heritage and its cultural meanings.
The aim of this research project is to study the rich cultural historical material and environment from an environmental humanities and life writing studies perspective. Methodologically the project constructs the idea of environmental biography at home museum surroundings. In addition, the project combines artistic work into research as it includes an artist who will paint the museum milieu and its details in her paintings. These paintings will add yet another layer to the processes of cultural memory that the home museum constitutes. There will also be a documentary film made on the whole research and artistic process – it will capture the moments of research and painting, but also document the home museum and its nature milieu in a unique setting.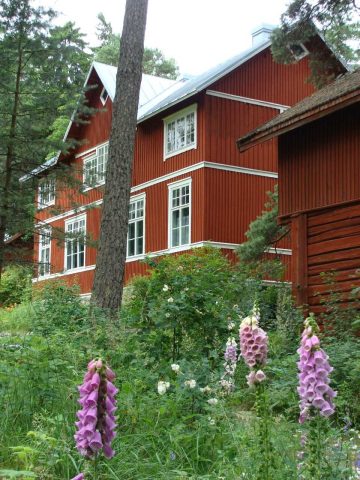 The project is led by the vice-director of Selma, professor of cultural history Maarit Leskelä-Kärki, and scholars PhD, lecturer Otto Latva, PhD Karoliina Sjö, PhD Katja Weiland-Särmälä as well as artist Erika Adamsson and documentarist Aleksi Kauppinen form the research group. The project combines new environmental humanities and life writing scholarship, and thus strengthens these thematic fields at the University of Turku in close co-operation of the nearby archipelago area: "Cultural memory and social change", "Biodiversity and sustainability" samt "Sea and maritime studies". The project received its first funding from Svenska Kulturfonden in March 2023.