Call for Abstracts for 1st Biennial ReCap Meta-Network Conference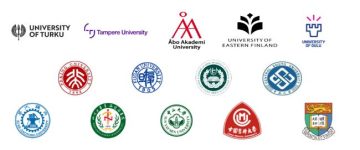 We invite you to join us for the Biennial ReCap Meta-Network Conference "Thriving Together: Research Career Pathway Toward Academic Excellence", funded by TFK 2021, Team Finland Knowledge programme (The Finnish National Board of Education), organised by the Partner Universities in Finland and China, taking place November 14-15, 2023. Venue: Nordic Centre, Shanghai (220 Handan Road, Shanghai 200433).
Responsible organisers
University of Turku, Department of Nursing Science with ReCap Program Partners (Tampere University, Åbo Akademi University, University of Eastern Finland, University of Oulu, Peking University, Fudan University, Peking Union Medical College, Central South University, Xian Jiaotong University, Sichuan University, Sun Yat-sen University, China Medical University, The University of Hong Kong)
Target Audience
The Conference is aimed at everyone who is keen to share their experiences and views on development on research career in academia.
Scientific Scope
We aim to bring together a broad range of multidisciplinary key actors and stakeholders, including researchers at different stages in their career, undergraduate, graduate, and post-graduate students, professors, teachers, practitioners and leaders in health and social care services, to share experiences of different career stages, and examples of models with practical suggestions for systematic career development in academia. We are inviting contributions of perspectives and experiences on a range of topics, including but not limited to:
Local initiatives during career pathways
Innovative methods in education and research of training young researchers
Opportunities and challenges in developing academic excellence
Collaboration with clinical practice
Alternative pathways for academic career building
Prerequisites for academic career and success
Practical examples of education and research collaboration in building academic success
Future visions: the role of academia in society
Mentoring in academic career building
Resources available for young researchers
Dare to dream: Ambition and action
Meta-networks related to career pathways
Abstract Submission
The abstract submission will open on April 28th, 2023 and abstracts need to be submitted on August 14th, 2023 (midnight GMT).
Abstract can be research based or commentary. Abstracts can be submitted for one of the following categories:
Oral presentation: Oral presentations will be 20 minutes long in total (5 minutes reserved for Q&As).
Poster presentation: Successful abstracts will need to prepare a poster and a 5-minute oral presentation for Poster Round Talk.
Lightning talk: Successful abstracts in this category will prepare one to three slides, and the lightning talk will be 10 minutes long (at least five minutes reserved for Q&As). The purpose of this Lightning talk is to share personal views about the topic with the audience and allow for open discussions.
Submission Guideline
Language: English
Text limit: maximum 1500 characters (including spaces; without title, author and affiliation)
Abstract structure: the abstract should include the following four areas:

Background: Introduction of the topic and its relevance
Aim: Brief statement regarding the purpose of the work and the current state of research in the field
Results, findings or personal views: Summary of results, including sufficient details to support any drawn conclusions.
Conclusions: Statement explaining the significance of the work and its implications for further research.
Abstract submission and Registration link 
Abstract selection procedure
Submitted abstracts will undergo a peer review process and results of the abstract assessment will be done by the Scientific Committee. They will be evaluated through a set of criteria for novelty, quality, potential scientific impact, interest, and relevance to the scope.
Accepted Abstracts
Results of the abstract assessment and assigned presentation category will be announced to the corresponding author via email. Individuals submitting abstracts agree that, if their abstract is accepted, they will present their abstract as scheduled. All accepted abstracts will appear in the final conference programme and will be made available to delegates online. All submitters will be asked to give consent to having the abstract and the contact details (name and affiliation) of the presenting author(s) published online.
Anyone that has been accepted to the conference and has registered can participate and attend remotely
Prizes
Presenters who are in early career (young researchers) will be considered for prizes. Prizes will be awarded for the best oral presentation, poster presentation and best lightning talk.
Important Deadlines
• April 28, 2023: Abstract submission and Registration open
• August 14, 2023 (midnight GMT): Abstract submission closes
• August 30, 2023: Authors notified of the outcome of the evaluation
• October 30, 2023: Registration closes
• November 14-15, 2023: 1st Biennal ReCap Meta-Network Conference
Scientific Committee
Prof Maritta Välimäki, University of Turku, Chair of the committee
Prof Riitta Suhonen, University of Turku, Vice-Chair of the committee
Prof Marja Kaunonen, Tampere University
Prof Kristina Mikkonen, University of Oulu
Assoc. Prof Daniel Fong, University of Hong Kong
Prof Xianqiong Feng, Sichuan University
Prof Xianhong Li, Central South University
Dr. Lei Cheng, Fudan University
Conference fees
The event will be free to attend for all participants.
Queries
For any queries, please contact the organisers by emailing recap@utu.fi.
We are looking forward to meeting you!
More information