Research projects
On-going projects
DISRUPT: Ducks as models for assessIng endocrine DISRUPTing chemicals in the aquatic environment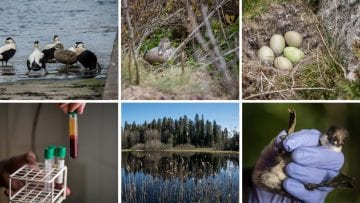 Disrupt is 5-year project (2020-2025) funded by the Academy of Finland.
Migratory waterbird populations have dramatically declined worldwide. In parallel, the proportion of females has considerably decreased in these populations. Increasing predation of incubating females has been put forward to explain such declines. However, the range of species affected by sex ratio bias towards males and the spatial scale of the processes suggest that other factors are involved. The increase of pollutants in the environment may contribute to these declines via a reduction of fertility, or an alteration of the immune response, especially of females. In birds, egg production and viability, as well as sex differentiation and the immune response involve hormonal mechanisms that can be altered by pollutants. Among them, endocrine disrupting chemicals (or EDCs) are of particular concern.
We are studying EDCs exposure and their biological effects in waterbirds, with special focus on: the common Eider Somateria mollissima and the Common Goldeneye Bucephala clangula.
EIDEAR: EIDEAR_Drivers of nesting failure in common eider (Somateria mollissima)? the study case of the eider colony at Bengtskär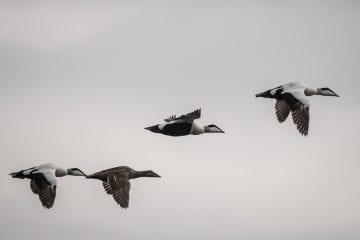 EIDEAR is funded by Turku University Foundation( 2020-2021).
This project focuses on the eider population of Bengtskär, an emblematic island of the Finnish Archipelago. Bengtskär hosts currently approx. 400 nests per year. High number of failed hatchling (unhatched eggs and dead ducklings) are reported on the island (43% in 2019) despite the absence of terrestrial and aerial predators.
The overall goals of this project are to investigate the drivers of the egg / hatchling failure at Bengtskär, and to assess if the failure is higher in female embryos as compared to males.
WATBRO: Water browning and land use in a forest landscape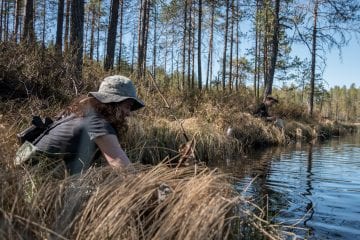 Lakes and rivers are becoming browner throughout the Northern hemisphere. This 'brownification' process is resulting mainly from the transfer of terrestrial organic matter in aquatic ecosystem.
While the ecological consequences of water browning are not well known, changes in water colour are expected to have negative effect on aquatic ecosystem and food web. During the first part of this project, I have established that invertebrate abundance and richness has dramatically decreased as a consequence to brownification. This result leads to concerns for species which are foraging on aquatic invertebrates. Fenno-scandinavian lakes are the most important waterfowl breeding areas in Europe, thus changes affecting waterfowl breeding output might reveal to have dramatic effects on their whole population. We established that invertivores waterfowl species have largely decreased during the last 2 decades in the Fenno-Scandinavian breeding ground as opposed to herbivorous species. This result strengthens our believes that brownification has dramatic effects on ecosystem functioning.
Collaborations: Lammi Biological Station, University of Helsinki, HAMK, LUKE, University of Eastern Finland, VanajavesiKeskus, University of Angers (France)
WATBRO is funded by the Finnish Cultural Foundation Häme Regional Fund and the Finnish Cultural Foundation General Call (2018-2022).
Forty years of bird survey in the Archipelago sea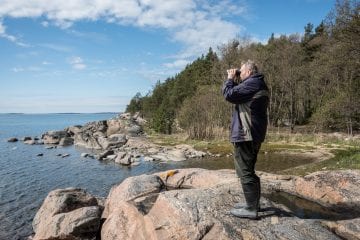 This project was funded by the
Finnish Cultural Foundation Varsinais Suomi Regional grant (2014-2015).
More information can be found here
POOL: the role of seasonal wetlands as biOdiversity hOtspots and nature-based soLution to water quality decline in the Finnish boreal forest ecosystems .
POOL aims at unraveling the role of seasonal wetlands as biOdiversity hOtspots and nature-based soLution to water quality decline in the Finnish boreal forest ecosystems .
POOL uses a multi actor and transdisciplinary approach.
POOL gathers the expertise of a multidisciplinary team of researchers, artists and stakeholders to provide in depth knowledge and raise awareness on deficiently known seasonal wetlands in boreal forest ecosystems.  
The project pool is funded by the KONE foundation from 2022 to 2025
More about POOL here