Support Services
This page is designed to inform you about different support services available in the University of Turku and about support services such as helplines or chats in general. You'll find more information about each service by following the link.
In addition, we have gathered some useful guides for, for example, student tutors!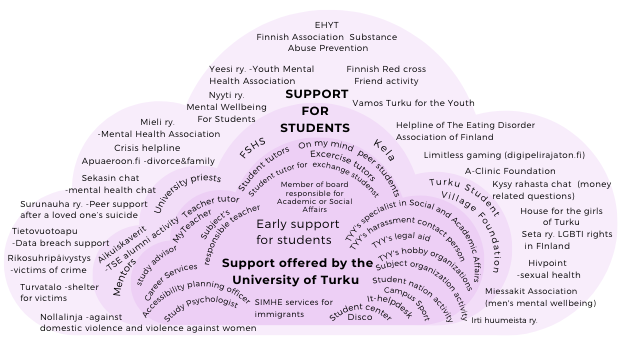 Service cloud (2021)
The university of Turku will support you throughout your studies. To help you find the best support, On My Mind project has created a Service Cloud figure to clarify the support offered to a student on and off campus. When in need of peer support, you can reach out to one of our support students through "Shall we talk?" form .
Crisis Helpline 0925250113
You can call the Helpline anonymously and confidentially.
Support Services
Support for students offered by the University
Student Union of the University of Turku
For Doctoral researchers
Services near student in the everyday life on campus
Information and help: Association and third sector parties:
Helplines
Chat services
Guides for tutors