Early Nutrition and Health research group
The impact of the early nutritional environment during pregnancy, lactation and infancy is of vast importance for the health of both the mother and the child. One challenge currently lies in unhealthy lifestyle habits including overweight: one out of every three pregnant woman is overweight or obese. Obesity predisposes women to the development of gestational diabetes and to postpartum type two diabetes, and increases the risk of metabolic disorders and overweight in the child, which may continue until adulthood.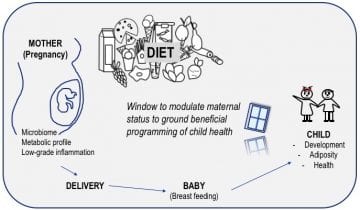 The goal of the research group is to provide a scientific basis for the relationship between diet and health, including mechanistic studies, focusing on the effects of maternal nutrition, metabolism and gut microbiome on both maternal and child health. We consider it of importance to evaluate the interactions between diet, metabolism and microbiome in defining clinical health outcomes, including body composition, as part of a holistic approach.​
We have several on-going studies in mothers and children, including long-term follow-up studies. We also develop and test methods for dietary intake assessment in different groups of individuals. Alongside academic research, we are open for industrially driven research and development projects.
Take a closer view of our research group and projects below!
Read more on our study results
Contact information:
nutritionresearch@utu.fi
Institute of Biomedicine
20014 Turun yliopisto