When AI met cybersecurity
Since late 2020, AI Academy has offered a massive open online course about AI and cybersecurity. So far as many as 680 students have registered for the course. To mark the end of the European Cyber Security Month, project coordinator Suvi Karila talked to the course's teacher, Ali Farooq.
Bringing two giants together
Take any given week these days and the news will have stories related to cybersecurity; stories discussing protecting your data privacy or articles addressing the latest cyberattack. But how exactly are cybersecurity and AI connected, and why should they be discussed together?
"Our society is generating an increasing amount of data," Farooq says. "More devices are connected to the Internet, and many critical services heavily rely on IT systems. At the same time, there is a risk of getting hacked or abused by cybercriminals."
In this context, modern AI can be described as double-edged sword: it can be used both as a protection and a weapon.
"Modern AI solutions can be harnessed to enhance the cybersecurity of IT systems through threat hunting, vulnerability assessment and management, network security and data centre security." Farooq explains. "On the other hand, AI can also be weaponized against the cybersecurity of systems and infrastructures. Therefore, it was thought necessary to bring these two giants together and understand their connection."
Theory meets reality
When creating a course on two "giants", both of which could easily be taught in their own separate course, a lot of thought had to be put into what could be included in the curriculum.
"We started with understanding who our audience will be, followed by discussions on what was vital to learn in an introductory course to develop basic understanding of both domains." Farooq says. "We provide examples of AI applications, some of which are already available in our societies. We discuss their security and privacy issues so that our learners can understand the importance of cybersecurity. We also discuss the ways AI can be used in defensive and offensive forms. To increase learners' interest, we list some real-life stories."
In addition to input from researchers, Farooq says it was considered very important to have experts from the industry contribute to the course as well. The course material includes interviews from experts of Ericsson, F-Secure and Silo.AI.
Flexibility without jargon
A major part of AI Academy's philosophy is the idea of continuous learning. The Academy's aim is to provide an open platform to learn about AI to students and workers of any field, without needing to have much previous knowledge of technology. AI & Cybersecurity course was developed with the same philosophy in mind. This created some challenges for the course.
"Considering our target audience were not technology students but anyone having a high school diploma, we had to come up with a way to explain technical jargon in layman terms." Farooq says. "We believe we handled this challenge quite well."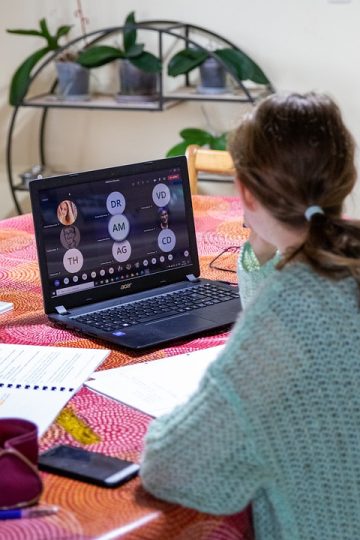 In addition to being accessible knowledge-wise, the whole idea behind creating a MOOC instead of a traditional online course was to have a platform that is available 24/7 and can accommodate a wide range of students. Students can follow the course at their own pace and customize their learning experience. Based on the feedback, the flexibility has also been appreciated by the students who have taken the course.
Finally, who would benefit from taking the course? Short answer: anyone.
"The course is for anyone who would like to have an introduction to machine learning and cybersecurity and is interested in learning the relationship between these two." Farooq says. "If you are someone who wants to go beyond their comfort zone and wants to take the first step in learning a new skill related to AI and cybersecurity, this course is for you."