IB World School
IB, how to apply
Criteria for IB student selection and Entrance Exam
The application to both the national and the international IB-section takes place in the spring-term joint application forum.
The deadline for basic education 9th graders ends on 12 March, 2020.
Contact study councellor Jukka Valtanen if you want to visit our senior high school and/or the IB-section. (jukka.valtanen@utu.fi)
The selection of new IB-students is based on the 9th grade final report and the entrance examination.
They both weigh 50 % in the selection. Only the grade average of academic subjects are taken into account in the final report but mathematics, mother tongue and English grades have double weighing.
Our senior high school information presentation evening will be held on Tuesday DD.MM.2021 at 18.30 in our auditorium. For additional information, contact jukka.valtanen@utu.fi, tel. +358 50-5660932.
N.B. In order to be selected to the IB section, you must place us FIRST in your favourite application schools. If you do not get selected, you will be placed in the school of your second choice etc.
IB section entrance exam is arranged in the auditorium of Turun normaalikoulu (Annikanpolku 9, Varissuo Turku) at 10.00 – 12.30 on Friday 17.04.2020.
The entrance examination is a written one and consists of a math test (NO calculators allowed), mother tongue and English essay. The exam is available in Finnish, English and Swedish.
If the applicant's best language is English, he/she takes the math exam and writes two essays in English.
The time spent on each subject is up to the candidate but we recommend 50 min / subject.
All applicants come to the entrance exam without a special request with an ID card or their passport.
Applying from abroad
If the candidate cannot be present in the entrance exam in our school, we can send the exams abroad to the candidate's school if the school arranges supervision for the exam according to our instructions. Once the entrance exam is over the papers have to be scanned and sent in an e-mail to  the diploma coordinator  marianna.vanhatalo@utu.fi
Admission results are announced on 13.6.2019 at the earliest. If you gave your email address in your application, you will receive an email. You will also be informed by letter. Your name is published on the school's website if you gave your permission. Students must accept the offered study place by 27.6.2019.
You will receive a link by email to accept the school place. Keep your mobile phone on; you may get a call about a better school option if you were on a waiting list.
IB basic information
IB in Turun normaalikoulu

Additional information on IB Programme
International Baccalaureate Diploma Programme is a highly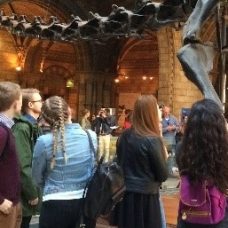 respected international matriculation/A-level examination programme which is in operation in more than 150 countries and in over 4000 schools. In Finland we have 16 IB schools and all of them have English as the language of instruction. The diploma gives an extensive university and higher education qualification both in Finland and abroad. The highlight of the pre-year is an excursion to London in the spring term.
The IB Diploma Programme aims at achieving more than ordinary curricula by developing inquiring, knowledgeable and caring students with high motivation to succeed. We strive to develop students who respect others, possess intercultural understanding and genuinely want to build a better world. The IB Diploma Programme encourages
students to think critically and logically, and challenge ideas constructively
teachers to utilize the latest research in education and evaluation that enhances learning
students to consider both local and global perspectives, and work for others too
teachers to enhance students' metacognition, study skills and to apply modern methods and technology in class
In Finland the actual two-year IB programme is preceeded by a preparatory year (pre-year) for many reasons.
The pre-year
is obligatory since by law the senior high school is (with minor exceptions) supposed to last for 3 years before the final examinations.
gives the students time to improve their English proficiency and expand their general knowledge by studying subjects which will not be part of their IB programme.
offer a chance for the students to get acquainted with their own style of learning and modern teaching methodology; at the same time the students learn time management and skills needed in IB studies.
allows the students one more year to think about their future and subject choices.
is a slightly modified version of the Finnish senior high school 1st-year curriculum.
IB diploma is widely regarded as a demanding programme that guarantees excellent study skills for universities and further education. Turku IB Section was established in 1991 as the 3rd school in Finland. Thus we have more than 25 years of experience in teaching the IB programme. The quality of teachers and teaching is excellent and our students gain very high final grades thanks to our careful follow-up and guiding systems.
Our ex-IB students receive excellent offers from Finnish universities as well as from top-ranking foreign universities. Our students have got into Oxford and Cambridge Universities, London School of Economics, Imperial College, Harvard and many uviversities in Central Europe.
SUBJECTS IN THE IB PROGRAMME

The IB programme includes fewer subjects than the Finnish senior high school but more than British A-levels, for example. Still, there is enough width and breath in the programme to make sure the transition to higher education and universities is a smooth and pleasant one. All six subjects, EE, TOK and CAS are compulsory in the programme.
The subjects to be includes in the IB programme are chosen at the end of the pre-year. The students have to choose 6 subjects from 5 Subject Groups: 3 subjects at Higher level (HL) and 3 subjects at Standard level (SL). The sixth subjects is chosen from Groups 2-4. Maximum number of HL subjects is 4 and occasionally some students choose a 7th subject which is not included in the Diploma.
HL corresponds to 9 courses on the national side (240 h) and SL 5,5 courses (15o h).
If the student is planning the career of a medical doctor, for example, and needs 3 science subjects, he/she can apply for a 'non-regular diploma'. If the permission is granted by the IBO, he/she will drop Group 3 subject.
There is more information on subject choices and additional requirements in the 'Pre-year page'. The subject choices always have to be approved by the careers counsellor and the IB coordinator.
IB SUBJECTS IN NORSSI
Subject Group

Subject

Number of courses

Group 1

Finnish A
HL 5  SL 3
Swedish A
SL 3
English A
HL 5  SL 3
Group 2
English B
HL 5  SL 3
French B
SL 3
German B
SL 3
Finnish B
HL 5 SL 3
Group 3
Business management
SL 3
Economics
HL 5  SL 3
History
HL 5  SL 3
Psychology
HL 5  SL 3

Group 4

Biology
HL 5  SL 3
Chemistry
HL 5  SL 3
Physics
HL 5  SL 3
Group 5
Mathematics
HL 5  SL 3

Other requirements

Theory of knowledge (TOK)
100 hours
CAS programme

Extended Essay (EE)

18 months

DP1, DP2
There are 3 more requirements in the IB diploma in addition to the 6 subjects.
1 Theory of Knowledge (TOK), which is a versatile forum for learning critical thinking and studies on the relationships between the nature and sources of knowledge in various fields of science. The course lasts for 100 hours and at the end the students give an oral presentation on a TOK topic of their own choice. They also have to write a TOK essay on one of the topics prescribed by the IBO.
2) Towards the end of DP1 year every student get started with their Extended Essay (EE) supervised by one of our IB teachers. The EE has to be finished during the final year, DP2. The EE and TOK results are combined and they give the students maximum 3 bonus points.
3)The 3rd entity is called the CAS-programme, (Creativity, Action, Social service). It means that the students finish a
minimum 150-hour programme over 18 months. It has to include creative activities, sports or other forms of physical action and voluntary social service without pay. The aim of the CAS activities is to encorage the students to develop their personality and skills in non-academic ways, to get involved in arts and physical exercice as well as to help others in need. In brief, the students learn to take care of themselves and to become responsible members of society.
The conditions for moving on to the final year are to be found on the 'IB evaluation' page.
▲
Pre-diploma year
Pre-diploma year
The IB Diploma Program (DP) lasts for two years and is preceded by a pre-diploma year aiming at developing the students' general knowledge as well as study and language skills.
The pre-year also gives an extra year for the students to make vital decisions concerning their future careers.
The pre-year curriculum is a modified version of that of the national side and the language of instruction is English.
In  Finland the senior high school has to last for three years.
Students must complete 25-30 courses in the pre-diploma year.
All students must study either German or French Those who have no previous studies in these languages must study 4 courses and advanced students in these languages join the group later on and study 2 courses. The courses are compulsory and cannot be dropped.
Other potential language studies must be approved by the DP coordinator and the student's family is responsible for the costs.
In addition, Turku International School (TIS) students with previous knowledge of the Finnish language must take 2 courses of Finnish B in the pre-diploma year.
TIS students with little or no knowledge of Finnish are advised to study Finnish in evening classes provided by the city.
If a student intends to take some other A language than Finnish, Swedish or English, he/she has to study it with a private teacher during the pre-diploma year and be responsible for the costs also during the pre- and DP years.
Ms. Rauni Kaskenviita can be consulted on questions regarding teachers in other A languages.
Subjects and Number of Courses
Languages: Mother tongue 3, English 3, Swedish 4,
Language B2: German or French 2
Language B3: German or French 4
Mathematics 3 or 5
Natural Sciences: Biology 1, Physics 1-2,  Chemistry 1, Integrated sciences 1
Humanities: History 2, Psychology 1, Social Studies 1, Theory of knowledge (TOK) 2
Other subjects: Art or Music 1, Physical Education 1,
Independent studies
Due to family or medical reasons a student may have to be absent from school and work independently for some time.
The school should be informed of such a case and preferably in advance, if possible.
The permission application for absence is made in Wilma.
The principal grants permissions to do the required course work independently.
Pre-year evaluation
Students receive a report card in Wilma five times a year at the end of each study period.
The courses are evaluated on a scale of 10 (excellent) to 4 (fail).
Failure to submit all course work can result in the letter T (= unfinished work) that automatically turns into a 4 (fail) after the next study period.
Teachers are not required to take into consideration work turned in late.
Students can try to raise a course grade by signing up for a retake exam via Wilma.
The dates for the retake exams can be found on the school's website, (IB Studies).
Students can attempt to raise a particular course grade only once.
Absences
All students are expected to attend school regularly. Absences from school must have a legitimate excuse and teachers should be informed of them in advance, if possible.
All absences must be cleared by a parent/guardian or a medical professional (doctor, dentist etc).
If a student has three to four absences the teacher must determine if he/she can evaluate the course.
More than four absences results in the incompletion of the course and the student must study the course independently.
Students must have completed all compulsory and voluntary pre-diploma year courses with a grade of 6 or above by the end of the school year.
The last retake exam is arranged in mid-June.
The pre-diploma year cannot be repeated.
Conditions for moving on to IB proper/IB1
To choose a higher level (HL) subject the student has to have at least grade 8,0 on average in it.
For a standard level (SL) subject minimum grade average is 7,0.
Students must meet the requirements below to select six diploma year subjects (see section below for eligibility).
Students have to choose 3 higher level (HL) subjects (max. 4) and 3 standard level (SL) subjects from DP subject groups 1 – 5.
The sixth subject is chosen from groups 2 – 4.
Students who plan to pursue further studies that require three science subjects can opt for a non-regular diploma which includes all sciences from group 4. They will leave out Group 3 subject.
Subject Group 1
Finnish A, Swedish A, English A (HL/SL)
Subject Group 2
English B, Finnish B (HL/SL) French B (SL), German B (SL)
Subject Group 3  History (HL/SL), Psychology (HL/SL), Business Management (SL)
To choose BM you must have at least grade 7,0 in psychology, final exam taken anticipated in the spring of DP1
Economics (HL/SL) to choose Ec HL you must have at least grade 8,0 in history and 7,0 in physics, for Ec SL grade 7 in both is sufficient.
Subject group 4
Biology (HL/SL), Chemistry (HL/SL), Physics (HL/SL), both pre-year courses have to be completed
*To select physics a student must have studied both physics courses offered in the pre-diploma year.
Subject Group 5
Math courses for DP are chosen after Course 1. Those whose grade in math course 1 is 6,0 – 6,9 will have to take SL math application and interpretation course during DP1. These students take 3 courses of maths in the pre-year. Math grades below 6,0 are not acceptable.
Those whose average grade is 7,0 or over in Course 1 may choose 'Math analysis and approaches' SL or HL course. To do so they have to study 5 courses of advanced mathematics in the pre-year.
N.B. Due to timetable reasons some subjects have to be taught at the same time. Therefore you can choose physics or history / chemistry or psychology  / biology HL or economics HL  / biology or business management
IB DP1, Diploma Year 1, subjects and evaluation
Look at the picture at the end of the page to see what the subject content pages look like.
The link above will take you to the official IBO Dipoloma Programme web pages where you can study the content, syllabus and evaluation of each of the IB subjects taught in Turun normaalikoulu.  (see the list at the end of 'IB basic information' page). TOK, CAS and EE information is there as well.
You can also find ex-IB students comments and videos on IB on the same page. The pages open up in Firefox under the download arrow, up on the right-hand side. Even if we have a very wide choice of IB subjects we are not in a position to offer all IB subjects due to timetable reasons.
Evaluation in DP1 and DP2



IB grades range from 7 (highest) to 1 (lowest).
Thus 6 subjects give maximum 42 points, TOK and EE max 3 bonus points. So the maximum points in the IB Diploma is 45.
Students are given grades after each of the five study periods as a course ends. In DP1, there are 5 HL courses and 3 SL courses and DP2 4 HL courses and 2 SL courses.
In DP2 the students have two mock weeks to practise time management and test knowledge.
If a student is absent from a mock exam, he/she must present a doctor's certificate to the form teacher and DP coordinator. This is a requirement for rescheduling the exam.
Failure to submit all course work can result in the letter T (= unfinished work) that will be transformed into a grade once the work has been completed.
Teachers are not required to take into consideration work turned in late.
The IBO does not round 0,5 up a grade (for example 5,5 remains at 5).
Absence control in the IB



All students are expected to attend school regularly. Absences from school must have a legitimate excuse and teachers should be informed in advance, if possible.
All absences must be cleared by a parent/guardian or a medical professional (doctor, dentist etc).
If a student is absent from a mock exam, he/she must present a doctor's certificate to the form teacher and DP coordinator. This is a requirement for rescheduling the exam.
Conditions for moving to diploma year 2 (DP2)
a minimum total of 24 points in six diploma subjects
a minimum average grade of 4 in HL subjects
a minimum average grade of 3 in SL subjects
a minimum of 12 points altogether in 3 HL subjects
a minimum of 9 points in 3 SL subjects
completion of all course work
completion of TOK presentation
completion of CAS portfolio for activities in DP1
first meeting held with extended essay (EE) supervisor and first reflection completed
Failing to meet one or more of the above criteria hinders the student from moving to DP2.
IB DP2, ABI-info, Final examinations
The link above will take you to the following two exam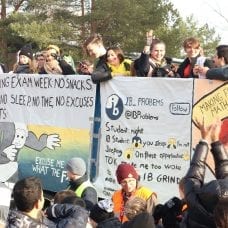 sessions. The exams of one subject is usually divided between two days. Sometimes the students have two different subjects tested on the same day.
Conditions for the award of the IB Diploma
all six IB subjects are compulsory and have to be taken in the final examinations
the students have 3 opportunities to take the examinations, this does not have to take place in consecutive sessions
most subjects can be taken in May or November sessions
a minimum total of 24 points in six diploma subjects
a minimum average grade of 4 in HL subjects (note: 3 is sufficient if have grade 5, 6, or 7 in another HL subject)
a minimum average grade of 3 in SL subjects (note: 2 is sufficient if have grade 5, 6, or 7 in another SL subject)
a minimum of 12 points altogether in 3 HL subjects
a minimum of 9 points in 3 SL subjects
completion of all IA work,  done at home or at school and is part of the final grade being 25-50 % of the final grade.
completion of all TOK components, no grade E
completion of all CAS components
completion of the Extended Essay, no grade E
all pending fees must have been paid, the final exam cost about 650 euros
Failing to meet one or more of the criteria above means no diploma awarded.
Teachers (IB)
first name.surname@utu.fi
Study support and guidance
Health care
Health care



School nurse Vilma Alcenius  (tel. 040 149 8500)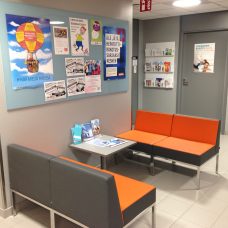 The school nurse's room is located on the 1st floor next to Lounge A in the elementary school section.
at 8 – 9 reception  without pre-booking
at 9 –  reception with advance booking

The aim of school healthcare is
to enhance the students' health and ability to study effectively, and to support life control and the process toward adulthood

to recognize the need for special support and to guide the student to make use of our welfare team and the suppotive measures
to observe and promote the health, welfare and safety of the whole school community and environment.
Health inspections of the senior high students

School health care is mostly taken care of by the school nurses and school doctor. They will contact other health services such as hospital inspections, treatment or rehabilitation if needed. All 1st-year senior high students are called to the health inspection carried out by the school nurse. 2nd-year students are inspected by the school nurse and doctor together but it is possible to meet the doctore earlier on request.
The aim of the health inspections is to get an overall view of the students' health and welfare situation and to guide the students to make choices that promote their health. Special attention is paid to the students' life situation, study motivation and health risks.
The students' health situation is evaluated from the point of view how well they are able to do well in their studies. The doctor's inspection in the 2nd year includes the inspection for the army as a pre-measure to the official army inspection.
It is vital that new students inform the school nurse, form or subject teacher about any underlying diseases or other conditions or symptoms that may affect the future studies.
Accidents and sudden illnesses that require medical doctor's treatment are taken care of in the local health centre or on-duty hospital (TYKS, T-hospital, Savitehtaankatu 1, Turku; telephone advice 02-313800). First aid is given by the school nurses. The treatment in cases of school accident is free for the students. See for more information in Wilma.
Dental treatments

Dental treatment of the students is carried out in the student's own dental clinic in his/her postal area. The students must book the time themselves and the treatment is free for anyone under 18. Turku central dental clinic tel. 02-2660 644. Those who are not permanent residents of Turku are obliged to book a time in their own community.
Working days and holidays, exam weeks
ANNUAL WORKING DAYS, HOLIDAYS and EXAM WEEKS

TWO TERMS / SEMESTERS

Autumn term               12.08.2019 – 21.12.2019
Spring term                  07.01.2020 – 30.05.2020
HOLIDAYS in 2019 – 2020

Autumn holiday   14.10.2019 –  20.10.2019 (week 42)
Talviloma                17.02.2020 – 23.02.2020 (week 8)
SENIOR HIGH STUDY PERIODS    
jakso                         12.08.2019 – 01.10.2019
jakso                         02.10.2019 – 27.11.2019
jakso                         28.11.2019 – 03.02.2020
jakso                         04.02.2020 – 02.04.2020
jakso                         03.04.2020 – 30.05.2020
IB pre-year exam weeks

09.2019 – 30.09.2019
11.2019 – 27.11.2019
01.2020 – 03.02.2020
03.2020 – 02.04.2020
05.2020 – 28.05.2020
IB pre-year retake exams

20.08.2019 klo 17.00-20.00
Retake 1                22.10.2019 klo 16.00-19.00
Retake 2                17.12.2019 klo 16.00-19.00
Retake 3                25.02.2020 klo 16.00-19.00
Retake 4                05.05.2020 klo 16.00-19.00
Retake 5                16.06.2020 klo 10.00-13.00
Daily lessons in grades
1. oppitunti  08.25-09.45
2. oppitunti  10.00-11.15
3. oppitunti  11.30-12.45
4. oppitunti  13.15-14.30
5. oppitunti  14.45-16.00
KIERTOTUNTIKAAVIO
| | | | | | | |
| --- | --- | --- | --- | --- | --- | --- |
| | klo | MA | TI | KE | TO | PE |
| 1 | 8.25- | 1 | 6 | 7 | 1 | 6 |
| 2 | 10.00- | 3 | 4 | 5 | 2 | 3 |
| 3 | 11.30- | 2 | 2 | 3 | 4 | 5 |
| 4 | 13.15- | 6 | 8 | 4 | 5 | 8 |
| 5 | 14.45- | 7 | | 1 | 7 | 8 |