High School
Basics for student selection
The application to both the national high school and IB diploma programme takes place using the joint applications system of spring 2021. On the national side the language of instruction is Finnish and in the IB English. The IB has a separate entrance exam.
The deadline for basic education 9th graders ends on 23 March, 2021.
Contact study counsellor Jukka Valtanen if you want to visit our senior high school and/or the IB-section. (jukka.valtanen@utu.fi)
Our senior high school information presentation evening will be held online on Wednesday 13.1.2021 at 18.30. For additional information, contact jukka.valtanen@utu.fi, tel. +358 50-5660932.
Admission results are announced on 17.6.2021 at the earliest.
Periods, holidays and exam weeks
ANNUAL WORKING DAYS, HOLIDAYS and EXAM WEEKS



WORKING DAYS AND HOLIDAYS
Autumn term: Wed 12.8. – Sat 19.12.2020
Holiday week: Mo 12.10. –  Sun 18.10.2020
Christmas break: Sun 20.12.2020 – Wed 6.1.2021
Spring term: Thu 7.1. – Sat 5.6.2021
Talviloma: ma 22.2. –  su 28.2.2021
JUNIOR AND SENIOR HIGH,  STUDY PERIODS AND SENIOR HIGH EXAM WEEKS
period 12.8.2020 – 5.10.2020, exam week 28.9.2020 – 5.10.2020
period 6.10.2020 – 2.12.2020, exam week 25.11.2020 – 2.12.2020
period 3.122020. – 9.2.2021, exam week 2.2.2021 – 9.2.2021
period 10.2.2021 – 12.4.2021, exam week 6.4.2021 – 12.4.2021
period 13.4.2021 – 5.6.2021, information will come later
RETAKE EXAMS (Senior high)

Thu 5.11.2020 at 16 – 19
Thu 14.1.2021 at 16 – 19
Thu 11.3.2021 at 16 – 19
in June, information will come later.
Meetings with guardians in Zoom
3IB + 3IBkv (DP2) Tue 8.9.2020 at 18.00
PreIB + preIBkv Thu 10.9.2020 at18.00
2IB + 2IBkv (DP1) Tue 27.10.2021 at18.00
Abishow Thu11.2.2021

Vanhojen päivä/Old dances pe 12.2.2021
Daily lessons in grades
1st lesson  08.30-09.45
2nd lesson  10.00-11.15
3rd lesson 11.30-12.45
4th lesson  13.15-14.30
5th lesson  14.45-16.00
Timetable formula
| | | | | | | |
| --- | --- | --- | --- | --- | --- | --- |
| | Time | Mon | Tu | Wed | Thu | Fri |
| 1 | 8.30- | 1 | 6 | 7 | 1 | 6 |
| 2 | 10.00- | 3 | 4 | 5 | 2 | 3 |
| 3 | 11.30- | 2 | 2 | 3 | 4 | 5 |
| 4 | 13.15- | 6 | 8 | 4 | 5 | 8 |
| 5 | 14.45- | 7 | | 1 | 7 | 8 |
Study support and guidance
Study welfare team
Key persons

Principal   Katrina Vartiainen               040 0831009
Office secretary   Anna Elenius             050 3297783
Careers counsellor  Jukka Valtanen     050 5660932
IB-coordinator  Marianna Vanhatalo  040 5773395
Curator     Jatta Auremaa                       050 5924685
Study psychologist   Petri Tiitta            040 5181955
Special teacher  Jaana Hyvärinen        050 5327080
School nurse  Vilma Alcenius                040 1498500
e-mails: first name.surname@utu.fi
Students' welfare work is the responsibility of everyone working in the school and it is carried out in co-operation with homes. The key persons in the welfare team are listed above. The student whose issue the team is considering can attend the meetings and the same applies to guardians, form and subject teachers.
The main goal of the team is to take care of the students' physical, mental and social welfare. The team also promotes the safety and welfare of the whole school community.
Careers guidance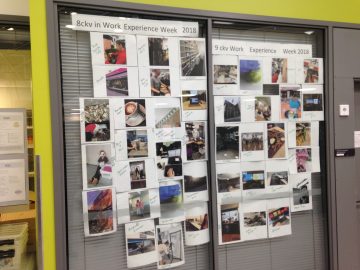 The guidance counsellor for senior high school is Mr Jukka  Valtanen, whose office is on the 3rd floor. tel. 050 5660932,  e-mail jukka.valtanen@utu.fi
The guidance counsellor advises students in matters such as general studies, career choices, further education and work life. The guidance is given in lessons as well as at personal and group meetings. The work is carried out in co-operation with other teachers and the student welfare team. The guidance also includes visits to colleges, universties and further education open days.
School curator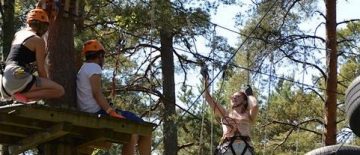 Our school curator, Ms Jatta Auremaa, works for all levels of students in the school. Her office is on the 1st lorr in A-wing.  Tel. 050 5924 685  e-mail:  jatta.auremaa@utu.fi
The school curator is a school social worker who aims at solving the students' problems in studying. She also works in co-operation with guardians, teachers, the school welfare team and external experts. If needed she also guides familieshow  to contact specialists outside school. Both guardians and students are welcome to discuss even personal matters with the curator.  All discussions with the curator are confidential.
The curator helps and supports the students in matters such as:

problematic situations in studies (absences, lack of study motivation and disability to concentrate on work in class)
challenges in social relationships (conflicts at home or elsewhere)
clearing bullying cases
matters related to life control
guidance and advice on study benefits
School psychologist
Our school psychologist Petri Tiitta's office is on the 1st floor in A-Wing. Make an appointment for consultation.                   tel. 040 5181955     e-mail: petri.tiitta@utu.fi.
The school psychologist aims at helping you in matters related to mental welfare, study motivation and coping with stress in particular.
The responsibilities of the school psychologist:
psychological investigations and evaluations related to the students' study habits and welfare
offering consultation for teachers and other staff
guiding and advising guardians
guiding and advising students
analysis of the activities and harmony of student groups and classes
co-operation with the principals and other staff; plans for crisis situations, for instance
Special teacher
Special teacher's job is to support the students in their studies and when they have learning difficulties at
times when the students' ability to work is decreased abrubtly, temporarily or extensively. The situation may be caused by a physical or mental illness or particularly difficult curcumstances in life.
On the other hand, the development of a student's study skills, time management, feeling of responsibility, mastery of life skills or motivation may require special support and guidance.
Special teacher also organizes dyslexia tests to identify reading and writing difficulties. She is also responsible for writing a document needed in special arrangements in examinations. Students are advised to be active in getting suitable assistance from her and the school.

Health care
Health care

School nurse Vilma Alcenius  (tel. 040 149 8500)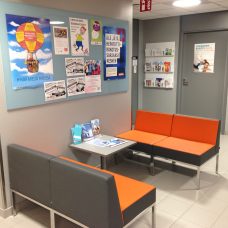 The school nurse's room is located on the 1st floor next to Lounge A in the elementary school section.
at 8 – 9 reception  without pre-booking
at 9 –  reception with advance booking

The aim of school healthcare is
to enhance the students' health and ability to study effectively, and to support life control and the process toward adulthood

to recognize the need for special support and to guide the student to make use of our welfare team and the suppotive measures
to observe and promote the health, welfare and safety of the whole school community and environment.
Health inspections of the senior high students

School health care is mostly taken care of by the school nurses and school doctor. They will contact other health services such as hospital inspections, treatment or rehabilitation if needed. All 1st-year senior high students are called to the health inspection carried out by the school nurse. 2nd-year students are inspected by the school nurse and doctor together but it is possible to meet the doctore earlier on request.
The aim of the health inspections is to get an overall view of the students' health and welfare situation and to guide the students to make choices that promote their health. Special attention is paid to the students' life situation, study motivation and health risks.
The students' health situation is evaluated from the point of view how well they are able to do well in their studies. The doctor's inspection in the 2nd year includes the inspection for the army as a pre-measure to the official army inspection.
It is vital that new students inform the school nurse, form or subject teacher about any underlying diseases or other conditions or symptoms that may affect the future studies.
Accidents and sudden illnesses that require medical doctor's treatment are taken care of in the local health centre or on-duty hospital (TYKS, T-hospital, Savitehtaankatu 1, Turku; telephone advice 02-313800). First aid is given by the school nurses. The treatment in cases of school accident is free for the students. See for more information in Wilma.
Dental treatments

Dental treatment of the students is carried out in the student's own dental clinic in his/her postal area. The students must book the time themselves and the treatment is free for anyone under 18. Turku central dental clinic tel. 02-2660 644. Those who are not permanent residents of Turku are obliged to book a time in their own community.
Courses and evaluation
Please, consult the careers counsellor on other matters related to completing the national curriculum and evaluation related to it.
Some of this information is available in English in the Pre-IB pages of our IB Section.
Projects