Digitally assisted CBT intervention for depressive symptoms during pregnancy (Yhdessä vahvaksi)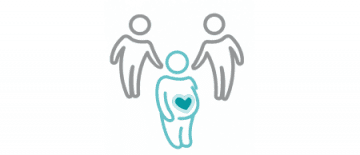 Current status: Ongoing RCT
Outcomes include maternal depression, anxiety, quality of life, functional ability, maternal attachment, infant temperament, child growth and development, and long-term outcomes via register data.
Pregnancy, being the time of joy, can also predispose future mother to depression. Approximately 15% of pregnant women have been shown to suffer from depressive symptoms. Antenatal depression can have several negative consequences on mother, child and their interaction. Unfortunately, depression is not always recognized and thus not efficiently treated in prenatal care. In addition to poor recognition, the lack of treatment possibilities, stigma, and practical reasons, such as long distances may complicate the help-seeking process. Therefore, it is crucial to develop low-threshold, easily accessible, effective treatments for those in need.
The main aim of the research project is to evaluate the effectiveness of the digitalized CBT-intervention "YHDESSÄ VAHVAKSI" in treatment of perinatal depressive symptoms in mothers screened from the general population. We will also assess the personal, familial and treatment-related factors that may affect the impact of the treatment.
In the long term, our objective is to implement YHDESSÄ VAHVAKSI program to the Finnish health care system.
Population: Pregnant women attending the maternity clinic at 15th to 16th gestational week and screened for symptoms of antenatal depression. Target population is 10,000 mothers and estimated 500 are included in the study.