Visionary Leadership
8 days | 10 ECTS | Start: September
THE GOALS OF THE MODULE
The module has a special emphasis on futures thinking and Corporate Foresight, Strategy and Dialogical Strategizing.
Managing and driving the Change and leading new business opportunities are tackled in this module.
The goal of the module is to provide the participant with strong foundation of new, visionary business competencies and widen their capabilities needed in business management roles.
Online studies available.
TSE exe programmes
Modular structure
Contact information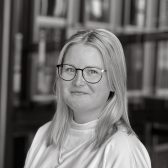 Anna Alasuutari
Program Manager
+358 50 536 4720
anna.alasuutari@utu.fi