Facilities and services
Archipelago Research Institute maintains facilities for conducting research and field education related to the archipelago and the Baltic sea. The marine station also provides various support services for e.g. scientific work, field courses, educational events and visiting groups.
Most of the Institute's research facilities are located at the center of the island: in the historical main building and other buildings close to it. Below you will find detailed information on the Institute's facilities and services. For more information, please contact us.
Laboratory facilities and research equipment
The Archipelago Research Institute offers various support services for researchers and course participants, including:
Central location in the Archipelago Sea
Lecture rooms, work rooms, wood and metal workshops, field equipment, boat rental and transportation services, temporary staff aid
3 aquaria rooms suitable for experimental research
Several laboratories for basic analyses and storage of samples
Long-term monitoring data
Accommodation, catering and guest harbour services are provided by VisitSeili
Bench fees, rent prices and related terms of use are available in the Institutes price list.
Research vessel and boats
The Institute offers boat rental and transportation services for groups and individual researchers. Prices and related terms of use are available in the Institutes price list.
Research vessel r/v Aurelia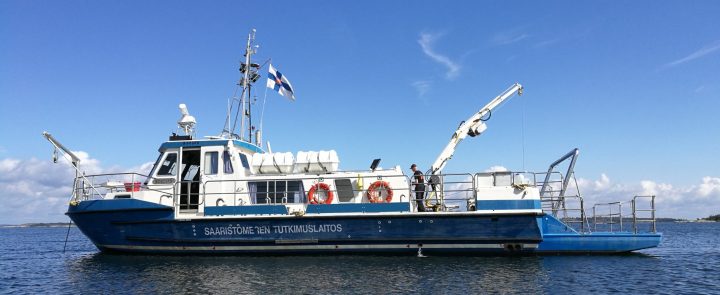 r/v Aurelia is a research vessel, designed and built especially for research conducted in shallow archipelago areas. Maximum number of passengers is 40.
Specifications:
Crew: Captain and deck hand
Commissioned in 1991
Length overall 18,1 m
Beam of 5 m
Max. speed 15 knots
More information available by request.
---
The Institute also owns the following boats:
Seili 5
Length 10,5 m
200 hp
Crew: captain and deck hand
23 passengers
Max. speed 15 knots
Seili 1 (200 hp, 10 passengers)
Seili 2 (90 hp, 5 passengers)
Faster 515 (60 hp, 6 passengers)
Faster 445 (40 hp, 5 passengers)
Two smaller motor boats (5 hp)
Hydrocopter and snowmobile are available during ice winters
See also
Collaboration network