Åbo Underrättelser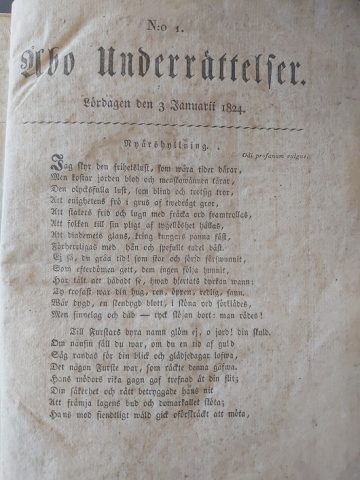 Åbo Underrättelser (ÅU) is the oldest, still running newspaper in Finland. The first issue was published on 3 January 1824. The founder of the newspaper was Christian Ludvig Hjelt, who was a Finnish printing house owner, publisher, and bookseller. Initially, Åbo Underrättelser included articles in Swedish on Finnish language and religion, scientific news from abroad, and announcements of appointments to posts in dioceses and universities. After the Great Fire of Turku, the university was moved to Helsinki, which resulted in a change of target audience for ÅU. Now the target was merchants and commerce, although efforts were made to get women readers as well. Well-selected and translated short stories were also published in the newspaper.
Åbo underrättelser and Åbo Tidningar laid the groundwork for regional and local press in Finland. In 1907, ÅU and Åbo Tidningar merged together, and also Västra Finland and the Finnish-language Turun Lehti joined the company. This way the newspaper turned into a major opinion-former that was widely quoted and commented on.
After World War II, the number of Swedish speakers decreased in Finland, and at the same time the cost of publishing a newspaper increased. In the 1960's, Åbo Underrättelser started to be published five times a week and changed size from a broadsheet to a tabloid.
Other resources on display