Curriculum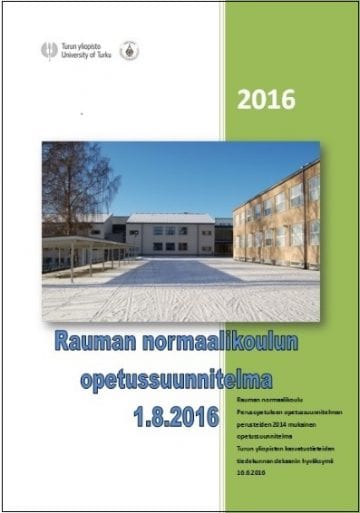 The Rauma Teacher Training School curriculum is based on the 2014 National Core Curriculum which is created by the Finnish National Board of Education and is a nationally followed norm. In addition to legislation, it is the most important document guiding the school's activities.
The newest curriculum used by the Rauma Teacher Training School was introduced on 1 August 2016, however, since that time some changes, required by the Finnish National Board of Education, have been made. One example is Chapter 6 which was completely revised on 1 August 2020. Almost every year the curriculum is being developed and revised to guide practical activities.
The curriculum content is broad and for each chapter there is a brief description of contents.
View the Rauma Teacher Training School curriculum 
View the National Board of Education National Core Curriculum 2014 web pages including related changes and requirements
Cover photo: Matti Varjo