Plans and instructions
Maintaining a calm school environment and organizational procedures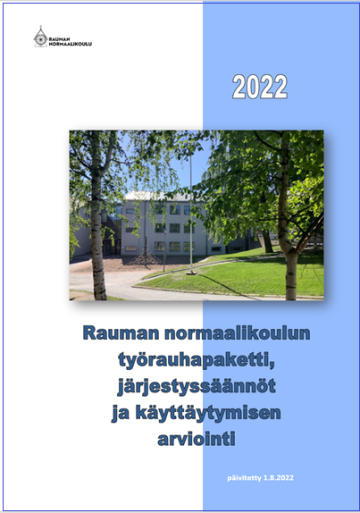 Rauma Teacher Training School has procedural system in place to maintain a calm school environment:
Rules of procedure drawn up in accordance with the guidelines issued by the National Board of Education in 2016
Recess instructions and other good behavioral guidelines and road safety instructions
Disciplinary procedures and penalties used by the school
Guidelines for breaches of the Rules of Procedure
The rules, guidelines and functional descriptions in the procedural system guarantee equal and equitable treatment of pupils.
View the procedural system for a calm school environment  (pdf file in Finnish)
Absences
Safety and accidents
Bullying and harassment
School transport and waiting time for club activities
Smoking and intoxicants
Guidance plan for student counselling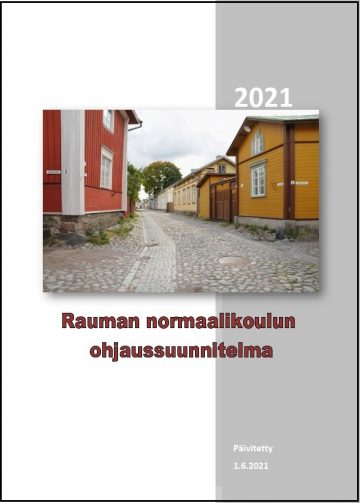 Student guidance is an everyday activity related to working, learning, managing learning strategies, and helping with educational choices. It enables the pupil to become an expert in his or her own learning, knowledge, and skills.
Student counselling is a subject in grades 7    to 9
View the curriculum (pdf file in Finnish)
The pupil given guidance about future study possibilities and work life in an organized way.
View the curriculum (pdf file in Finnish)
Equality and equity plan
No one is discriminated against in an equal and equitable school!
The equality and equity plan for teacher training schools is revised annually in cooperation with staff and pupils. The student welfare group is responsible for refining the plan and implementing the operations.
Read more about the equality and non-discrimination plan. (pdf file in Finnish)
Cover photos: Matti Varjo